November 19:
Students registered in the Farm Management and Technology program are eligible for many bursaries. This Fall, a total of 24 bursaries were presented to our FMT students and 3 bursaries to undergrad students in the Faculty of Agricultural and Environmental Sciences. Thank you to all the generous donors and congratulations to all winners!
In their Dairy Heifer Management course, second year students are assigned heifers from the Macdonald Campus Farm to follow their growth and weight curve and to select the best sire for it as part of their class.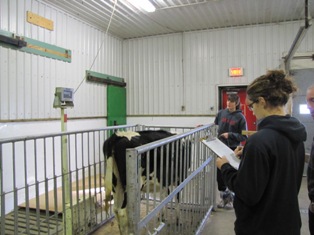 Also see October 2012 pictures
For even more photos, you can scroll through galleries from past years using the navigation bar on the left.