October 28-29:
Third year students Melissa Duncan, Summer Mason and Colin Murphy (in order) that previously took dairy management courses with their instructor Christian Molgat are testing their knowledge by participating at the North American Intercollegiate Dairy Challenge in New York State this year.
October 25:
Second year students are doing a field trip at a cow-calf operation in Havelock, Qc.
October 21:
Third year students are designing the landscape at Tadja Hall this Fall. Keep the hard work folks!
October 11:
Second year students are harvesting potatoes (on the left) while first year students are playing soccer during their physical education class (on the right).
October 4-6:
Third year students participate at the annual South West Ontario trip at various food and agricultural enterprises during these 3 days. They are encouraged to ask and to look how these enterprises are managed and the strategies they use.
October 3:
Second year students, in the Fruit and Vegetable Crops' course, learn all steps required to produce wine from the Macdonald campus grape vines. The first two steps are to harvest the grapes and then to extract the precious juice from the grapes.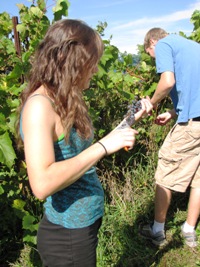 Also, see September 2011 pictures