March 14:
For the academic year 2011, 21 students received burseries and prizes during the FMT Awards Ceremony from various donors which are listed on our Scholarships and Awards webpage along with the winners. Congratulations to all winners! Most of these burseries and prizes have conditions which may be based on grades, involvement, financial need and/or per region. A special thank you to all donors.
March 8:
At Macdonald Campus at the Poultry Complex, second year FMT students are running a feed trial on meat birds as part of their Swine and Poultry class. The chickens arrived on site at 1 day old and the experiment ends when they are 35 days old. The students are grouped in teams and they are responsible for some chicken pens. Throughout the experiment, they have to have someone to come visit the chickens once a day, look after the feed, water supply height and they record their gain once a week and any other observation.
 
March 6:
Second year FMT students enrolled in the Greenhouse Crops' class are taking care of their growing crops in the Macdonald Campus' Greenhouses. They are looking for a good tomatoe harvest soon!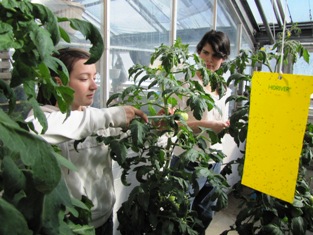 March 1:
Third year FMT students get to do a "concrete" project as part of their Building Maintenance course! Mr Sam Sotocinal is showing them how to handle, pour and get a good solid concrete. Students also got to do their own forms for the concrete in the tool shop on campus.  
Also, see February 2012 pictures
For even more photos, you can scroll through galleries from past years using the navigation bar on the left.