January 28:
At Macdonald Campus, the Canadian Intercollegiate Lumberjack Association took place with 16 teams competing. There are 4 core team events, 3 core doubles event and 6 core singles event. Macdonald was represented by 1 men's team, 1 women's team and a Jack & Jill team. Congratulations to all competitors!
Below, you can see Martin Schultz sawing at the Single Buck event with white pine. He had to cut through a round log in the shortest time possible using a crosscut saw. Also below, Colin Murphy was provided with a dried cedar block as knot free as possible, 3 matches and a can of soapy water. He uses his own hatchet and the time stops when the water is boiling over the edge of the can. 
January 17:
Parsley and other fine herbs are grown hydroponically by the second year FMT students as part of their Greenhouse Crops' course.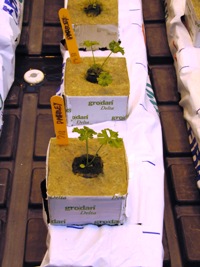 In one of their Soil Fertilization laboratories, first year students take observations and compare on the development of corn roots with different fertilizer treatments.
Also, see December 2011 pictures
For even more photos, you can scroll through galleries from past years using the navigation bar on the left.