April 24:
Last day of classes for the Winter 2012 semester.  
April 19:
The graduating class of 2012 organized a party to celebrate their three years spent together as a group but also with friends and staff. It is always a success every year with good memories. This is why FMT students do fundraisers so that they can organize their own graduation party in their third year.
April 17:
The Farm Credit Canada Business Planning awards were awarded to Melissa Duncan (1st place) and to Dominique Dubreuil (2nd place) based on their Farm Project written report.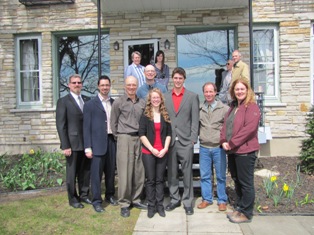 April 5:
This year, at the Macdonald Campus Greenhouses, the Annual Easter Plant Sale took place once again! A variety of tulips, chrysanthemums, daffodils, muscari, geraniums, potted herbs and more were available.  These plants were grown by students for their classes.
Also, see March 2012 pictures
For even more photos, you can scroll through galleries from past years using the navigation bar on the left.