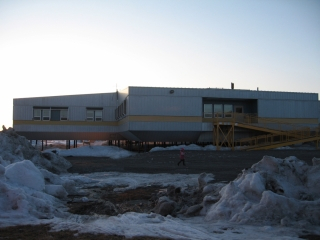 ---
LOCATION
Puvirnituq (PUV) is an Inuit community on the Povungnituk River near its mouth (north-west corner) on the Hudson Bay. The only access to the community is by air. The teaching site is part of the Inuulitsivik Health Centre.
---
CAPACITY
• 2 trainees per period
---
LENGTH OF ROTATION
• 1 or 2 months
---
LANGUAGE
• Spoken: French and English
• Charting: French
---
CLINICAL EXPOSURE AND LEARNING EXPERIENCES
Rotation primarily done in
Hospital
Trainees can be exposed to:
• ER
• Home care/visits
• Intensive Care Unit
• Long Term Care Facility
• Minor Procedures
• Obstetrics
• On-Call
• Visits to other villages (on occasion)
• Teaching Activities
• Walk-in Clinic
• Ward and Patient Services
• Other clinical exposures: Medivac
► The trainees assigned supervisor may change during the course of their rotation.
---
OTHER INTERESTING INFORMATION
Hospital provides primary healthcare services. It serves seven villages in the Hudson Bay.
• 1450 Admissions/year
• The patient population is of avout 7500 Inuit spread over 7 coastal villages
• 85 beds
• Population in PUV is about 1100