Faculty Club Newsletter, November 2017 Edition
Many people wear artificial poppies on their clothes in the weeks before Remembrance Day. Red poppies symbolize the memory of those who died in various wars and white poppies campaign for non-military interventions
in such conflict situations. On Saturday, November 11, there will be several special church services held throughout the City. These services often include the playing of "The Last Post", a reading of the 4th  verse of the "Ode of Remembrance" and two minutes of silence at 11:00 am. After the services, wreaths are laid at local war memorials.
********
Last month, the Faculty Club hosted a dinner and opera night that turned out to be a great success - many thanks are due to Professor Stefano Algieri and his highly talented students. A special mention is also due to Professor Louise Pelletier for her work at the piano. Finally, a  special thank you to all the members who attended the event - your continued support is truly appreciated.
*********

Bridge: Tuesdays, November 7 and 21 in the Maude Abbott Room, 1:15 to 4:15 pm.
As usual, all bridge players are invited to the Faculty Club.  The event takes place on Tuesday every two weeks and new participants are always welcome.  Organized by the McGill Committee for Retired Professors, the game afternoons are perfectly combined with a drink and a snack during matches. 
For more details, please contact Dorothy Thomas Edding via email:
doDorothy.thomas_edding [at] mcgill.ca or by phone: (514) 932-8478
*********
Centraide Trivia with Professor David Harpp
Wednesday, November 22 in the Faculty Club Ballroom, Registration starts at 5:30 pm, Quiz at 6:00 pm.
Last year, we had 8 teams and 10 individuals who contributed special donations to Centraide and thus secured their places for this year's six rounds of Trivia. The current Centraide Trivia Season is already well under way. It will certainly be a tight race to the finish. Don't let your guard down at any time, because every point counts if you want your team to stand a chance to be crowned Trivia Champions. Be sure to register your team early, as places are limited.
 A minimum of 5$ donation is required for admission.
Please note that the dates for round 3 and 4 have been decided. We are still waiting for the round 5 and 6; as soon as they are decided, each member will receive an email with the exact dates.
Thursday January 18 2018 (Round 3)
Wednesday March 14 2018 (Round 4)
April 2018 (Round 5)
May, 2018 (Round 6)
********
Annual Holiday Celebration and Buffet Luncheon
Thursday, December 14, Faculty Club Ballroom. Noon to 2:00 pm
The McGill Faculty Club is proud to be hosting another Annual Holiday Buffet. Enjoy traditional Yuletide melodies sung by the McGill Carolers during your meal. Chef Niko and his team will work like elves to prepare a sumptuous Holiday buffet that will please your palate. Take this opportunity to enjoy some quality time with colleagues, friends and family. Be sure to reserve quickly as spaces are limited.
                                                                      $34.00 per person
For menu and reservations, please click here
*********
Brunch and Children's Holiday Party on Sunday, December 3, Faculty Club Ballroom. Please arrive between 11:00 and 11:15 am.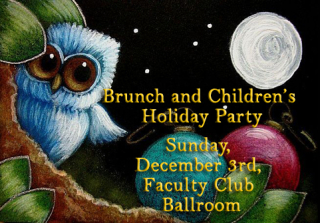 The Faculty Club invites members and their families to its annual Children's Holiday Party.  This year, we will again have, in the Heritage room from noon to 1:30 pm, two activities that will dazzle the kids and their parents as well. Let's not forget our private visit from Santa Claus and the gift-giving! Please note that this year, our favorite Santa has an engagement on the same day, so this means that we will have to have him come down earlier than in previous years to present the gifts to the children. Parents are asked to bring a gift, wrapped and well identified for their children, valued at no more than $15.00. Gifts may be left at the Reception Desk upon arrival for Santa to give to the children.
Members Only! Children 11 years old and under are Free! Children over 12 years old and adults: $32.50 per person.
For menu and reservations, please click here
**********
Update your agenda regularly by visiting the McGill Faculty Club website: http://mcgill.ca/facultyclub
For special requests or questions, please contact:       Natasha.sharma [at] mcgill.ca or by phone at
514-398-5537
Ian S. Butler                                                                    Nicolas Zrihen
President, Faculty Club                                                  General Manager