Discovery Accelerator Grants awarded to Four Researchers
Marco Amabili (Mechanical Engineering) Raynald Gauvin (Mining and Materials Engineering) Alejandro Rey (Chemical Engineering), and Thomas Szkopek (Electrical and Computer Engineering), have been awarded grants from NSERC's 2013 Discovery Accelerator Supplements Program (DAS).
The program provides "substantial and timely additional resources to a small group of researchers whose research proposals suggest and explore high-risk, novel or potentially transformative concepts and lines of inquiry, and are likely to have impact by contributing to groundbreaking advances in the area". Each award is valued at $40,000 a year for three years.
Previous Recipients
2012

Damiano Pasini (Mechanical Engineering)
Jeffrey Bergthorson (Mechanical Engineering)
Francois Barthelat (Mechanical Engineering)

2011

Showan Nazhat (Mining and Materials Engineering)

2010

Nathalie Tufenkji (Chemical Engineering)
Tal Arbel (Electrical & Computer Engineering)
2009

Warren Gross (Electrical & Computer Engineering)
Srikar Vengallatore (Mechanical Engineering)

2008

Alejandro Rey (Chemical Engineering)

2007

Meyer Nahon (Mechanical Engineering)
---
Winners of the 2013 William and Rhea Seath Awards Competition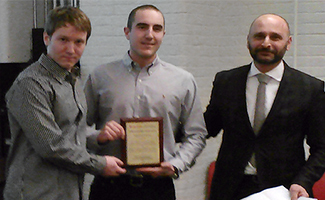 James McGoff and Charles A. Vincent, both undergraduate students in Mining and Materials Engineering for their "Novel Insulation Inserts for Improving Large-Scale BioPharma Logistics Operations". LIFEPACK, the company that James and Charles co-founded, is commercializing a novel insulation product for companies seeking to improve their large scale cold chain operations without disrupting their current shipping logistics. Adopting the LIFEPACK product is the quickest and easiest way for companies to improve their cold chain packaging by 40% to 80%. The product's development was heavily based on a continuous dialogue with key partners in the biopharma industry. These industrial partners included pharmaceutical developers, centralized laboratory services, contract research organizations (CRO's), blood banks, hospitals, and third party logistics providers (3PL). The award will go towards scaling and sustaining the growth of the company.
Professor Andrew Kirk, Electrical and Computer Engineering, Dr. Philip Roche of the Lady Davis Institute for Medical Research, and Professor Mark Trifiro, McGill Department of Medicine and Chief of Endocrinology at the Jewish General Hospital, for their "Multiplex Measurement of PCR Reactions by a Label Free Plasmonic Thermocycler". This new, better, cheaper, and faster method in the performance of the polymerase chain reaction (PCR) has been demonstrated and patented at McGill. PCR is an essential tool in molecular biological investigations and dominates the field of molecular diagnostics, providing DNA fingerprinting for crime scene analysis as well as identification of disease processes (cancer resistance and susceptibility, hereditary illness and microbial infection). The award will meet the specific aim of delivering the prototype of a miniaturized, multiplex, energy efficient, and rapid real-time PCR platform that outperforms market leaders.
Professor Jun Song publishes in the Journal of Nature Materials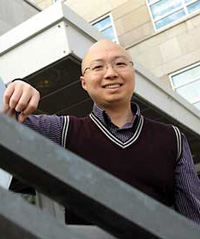 A recent article authored by Professor Jun Song (Multiscale Modeling of Materials Group, Mining and Materials Engineering) in collaboration with Professor William Curtin (Director of the Institute of Mechanical Engineering at École polytechnique fédérale de Lausanne in Switzerland) was published in the journal of Nature Materials (impact factor 32.84). Song's study, entitled "Atomic mechanism and prediction of hydrogen embrittlement in iron", reveals clues towards fundamental understanding of hydrogen embrittlement, and provides a framework for interpreting experiments and designing next-generation embrittlement-resistant structural materials. For details, please read the report at the McGill Newsroom.
Xinyu Liu Receives the CMC Award
Professor Xinyu Liu of the Biomedical Microsystems Laboratory in Mechanical Engineering received the 2012 Douglas R. Colton Medal for Research Excellence from the Canadian Microelectronics Corporation (CMC). He is seen here with Dr. Ian L. McWalter, President and CEO of CMC Microsystems. This is awarded annually to a Canadian researcher to recognize excellence in research leading to new understanding and novel developments in microsystems and related technologies. Professor Liu was honoured for developing "innovative microrobotic and bioMEMS technologies that enable high-throughput, automated manipulation and characterization of single cells for biological and medical applications".
Tom Gleeson Publishes Article in "Nature"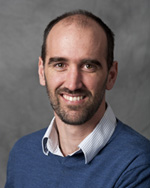 Professor Tom Gleeson of Civil Engineering and Applied Mechanics recently published in Nature (Article: 488, 197–200; 2012). His paper entitled "Water balance of global aquifers revealed by groundwater footprint" received extensive international media coverage, including articles in the Los Angeles Times, Vancouver Sun, La Presse, Chicago Tribune, le Nouvel Observateur, Huffington Post, Nature Geoscience, Sciences & Vie, Sciences & Avenir, CBCnews, Nature News, Science News, CNBC, Agence Science-Press, Tahiti Info, Orlando Sentinel, Boise Weekly, Hong Kong Daily News, The Nation (Pakistan), Newsweek (Pakistan), the Daily Star (Bangladesh), the Saudi Gazette (Saudi Arabia), Terra (Spain) and Yesil Gazette (Turkey) following news wire stories by Reuters and Agence France-Presse. Blog coverage includes the New York Times, National Geographic, NPR , Scientific American, Washington Post, Kennislink, Business Insider, Deutsche Welle, Medical Daily, rtbf.be, pieuvre.ca, revmodo.com and landfood.ubc.  
Results of NSERC Strategic Project Grants
Eight applications submitted by McGill Engineering professors as lead investigators were successfully awarded. The complete document can be viewed at: NSERC 2012: Strategic Project Grants.
Name, Department & Co-applicants
Project Title & Industry Partners
Term & Total Award

Vamsy Chodavarapu
Electrical & Computer Engineering

Mark P.Andrews, Shiv Prasher, Paul Blanchfield

Networked Fish: Integrated Acoustic Sensory Telemetry (AST) Tags for Water Monitoring

---

- VEMCO Division, AMIRIX Systems
3 years

$437,250

Subhasis Ghoshal
Civil Engineering & Applied Mechanics

Nathalie Tufenkji, Kevin J.Wilkinson, Yves Comeau, Geoffrey Sunahara, William Hendershot

Environmental Risks of Engineered Nanoparticles in Municipal Wastewater Treatment Plants: Toxicity, Persistence and Impacts on Effluent Quality

---

- Environment Canada, - SNC Lavalin, - Tetra Tech WEI, - Perkin Elmer, Health Sciences Canada
3 years

$509,220

Jozsef Kovecses
Mechanical Engineering

Clement M. Gosselin, Jorge Angeles

Mechanical Intelligence in Haptic Interfacing with Digital Worlds

---

- CMLabs Simulations
3 years

$390,000
Zetian Mi
Electrical & Computer Engineering

Kirk  Bevan, Hong  Guo
Chemical Transformation and Storage of Carbon Dioxide Via Solar-Powered Artificial Photosynthesis on Semiconducting Nanowire Arrays

---

- Hydro-Quebec,  - Alcoa Canad

3 years

$424,500

Zetian Mi
Electrical & Computer Engineering

Andrew Kirk, David Plant
3-Dimensionally Integrated Nanophotonic Circuits on Si For Terahertz-Speed Chip-Level Optical Communications and Sensors

---

- Lumerical Solutions
 - Reflex Photonics
3 years

$408,000

Mihriban O. Pekguleryuz
Mining & Materials Engineering

Sasha Omanovic, Dominique Shum-Tim

Development of Novel Magnesium Alloys With Improved Biocorrosion and Mechanical Behavior For Cardiovascular Implants

---

- Baylis Medical

3 years

$374,980

David Plant
Electrical & Computer Engineering

John Cartledge
Optical Waveform Generation: A Powerful Enabler For Optical Fiber Communications

---

- Ciena

3 years

$439,500

Ishiang Shih
Electrical & Computer Engineering

Hong Guo, Zetian Mi

 

High Power Nanowire Green Lasers Monolithically Grown on Silicon: Bridging the Green Gap

---

- OLA Display Corp., - Meaglow

3 years

$403,500