Handwashing Posters
---
Lab Info Card Generator
Create a Laboratory Information Card for your lab by filling out the form on this page: https://www.mcgill.ca/ehs/laboratory-cards. Please print out the completed form and display it on your laboratory door. Further instructions are provided on the above-mentioned page.
---
First aid poster maker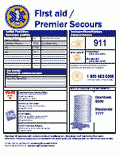 Create a First Aid poster for your lab by
filling out
our editable Acrobat Reader form and printing it out (
Acrobat Reader
is required).
First Aid Poster

[for Office, displays CSST Trainings only]

  
First Aid Poster Laboratory[for Lab, includes eyewash information, and space for other 1st aid trainings]
First Aid Poster[for Office, and space for other 1st aid trainings]
Note: For first aid kit supplies list, ordering form and inspection checklist please see the forms section
---
Safety Information and Policy Posters
These posters should be posted in McGill Laboratory facilities.
Laboratory Resonsibilities [.pdf]
Did you know? [.pdf]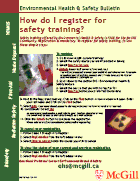 How to Register [.pdf]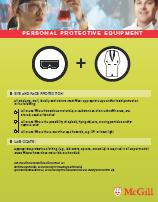 Protective Equipment Policy [.pdf]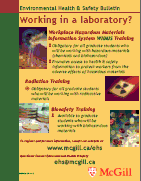 Working in a laboratory [.pdf]
Poster for cold room doors
This poster lists the cold room regulations and should be filled in to list the names and phone numbers of the people responsible for the cold room.
Appropriate Attire For Laboratory Personnel
This poster outlines the basic guidelines regarding laboratory attire.
Appropriate Attire for Lab Personnel