The Department of Kinesiology and Physical Education actively supports the McGill Research Centre for Physical Activity and Health (PATH), a Faculty of Education Research Centre directed by KPE's Dennis Jensen. Find out more about PATH.
KPE Research Labs and Centres
Facilities
The Currie Gymnasium building also houses the Department of Athletics which offers:
Intercollegiate competition (at the University level)
Instructional Program (to acquire/improve athletic skills)
Intramural Program (to participate in recreational and/or competitive athletics)
Sports Clubs (students pursuing athletic activity of their choice).
Also available for use:
2 swimming pools
1 ice rink
11 squash courts
1 racquetball court
weight room
4 full gymnasium
outdoor track
football/soccer field with artificial turf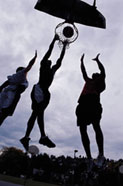 Built in 1994 the field house contains a 200m track, and 4 courts for basketball, volleyball, or tennis.
The 7000 sq. ft. Seagram Sport Science Centre (SSSC) houses a portion of laboratories used for research, teaching and testing activities in Exercise Physiology, Biomechanics, Pedagogy, Sport and Exercise Psychology, Motor Learning, and Motor Performance.
Several evaluation, educational, and training programs have also been developed such as an extensive physiological assessment program for the Montreal Canadiens and various national teams.