Event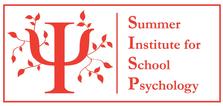 The Department of Educational and Counselling Psychology, in partnership with McGill's Faculty of Education is proud to present the McGill Summer Institute for School Psychology (SISP), which will be held in August 2017. The goal of this annual conference is to offer a high quality professional development experience for school psychologists across North America.
The McGill Summer Institute for School Psychology is a two-day conference to be held in McGill's Moyse Hall Theatre on August 23 and 24, 2017. The conference includes a series of workshops presented by renowned scholars from Canada and the United States, including McGill's own Dr. William Harvey, as well as Dr. Sonia Lupien, Dr. Elizabeth Laugeson, and Dr. Peg Dawson.
The audience for this workshop will be school psychologists, educators, educational policy makers, counsellors, clinical psychologists, social workers, graduate students and other related personnel across Canada. The Summer Institute is the only opportunity in Eastern Canada for practising school psychologists to receive detailed information on modern evidence-based practices from international leaders in the field. In this fashion School/Applied Child Psychology Program at McGill University has the opportunity to become a hub of knowledge mobilization in the field of school psychology.