Professor Emerita Polanyi Levitt Recipient of the Order of Canada in 2014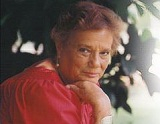 Congratulations to Professor Emerita Kari Polanyi Levitt, longtime member of the Economics Department, for being awarded the Order of Canada in June 2014. She was honoured for her contributions to the establishment of international development studies as an interdisciplinary academic field and for her research on political economy in the Caribbean.
She joins fellow Department member Professor Jean-Marie Dufour, who was appointed to the Order in 2008.
---
From Research to Policy:

President Obama's new focus on the long-term unemployed relies on research by Kory Kraft (Toronto), Fabian Lange (McGill), Matthew J. Notowidigdo (Chicago): Duration Dependence And Labor Market Conditions: Evidence From A Field Experiment. 
Les entreprises américaines écartent les candidatures des chômeurs de plus de six mois. Barack Obama les invite à revoir leur politique d'embauche.  Aux Etats-Unis, le piège du chômage de longue durée
| 2013 - 2014 | Areas of Specialization |
| --- | --- |
| GALIANA, Isabel | Environmental and Resources Economics,(Climate and Energy Policy) |
| HUANG, Zongye | Macroeconomics (Structural Change and Trade) |
| TASNEEM,Dina | Behavioral and Experimental Economics, Applied Microeconomics, Resource Economics, Dynamic Decision Making |
McGill Journal of Economics
The McGill Journal of Economics (MJE) is published annually by the Economics Students Association of McGill and accepts original papers that relate to economics, econometrics and political economy. Submissions are welcome in either French or English and can be e-mailed to esamcgill [at] gmail [dot] com (ESA) or to the MJE editorial board account (updated annually).