SYTACom ON THE LINE
"This is grassroots driven," says David Plant of the Department of Electrical and Computer Engineering. "We have a critical mass of researchers." Plant is describing SYTACom, the Centre for Advanced Systems and Technologies in Communications, which brings together 27 of Quebec's top communications researchers. SYTACom is based at McGill, as are 13 of its members, with other researchers at Concordia, Laval, the institut national de la recherche scientifique - Énergie, Matériaux et Télécommunications, and Sherbrooke.

"SYTACom gives us the human resources to help people with common interests to meet and execute their research," says Plant, the Principal Investigator and Centre Director. The funding comes from Fonds québécois de la recherche sur la nature et les technologies (FQRNT) as part of its "regroupements stratégigues" program, dedicated to establishing research centres and networks in the province. SYTACom will receive $187,000 for the first year, and $250,000 a year for the following five after which its funding is up for renewal. "We will be a catalyst to help people connect with each other, share knowledge and equipment, and develop joint research proposals for new projects," says Tho Le-Ngoc, SYTACom's Scientific Director and, like Plant, a professor in Electrical and Computer Engineering. The centre will hire technical professionals and administrative staff to facilitate research performed by professors and their teams, although there will also be money for graduate student scholarship top-ups, conferences, symposia and workshops - all critical for building and maintaining the network. "We've got a lot of great equipment and very talented researchers, but need just a little bit more to help us go over the top," Plant says.
The centre's research can be divided into four themes - advanced networks, communications software, intelligent signal processing and broadband transmission. The members - and their number is expected to grow - will be working on fundamental problems as well as "targeted" investigations more closely connected to the interests of industry partners. "Our challenge is to help industry by bringing it and researchers together, and at the same time to help the research community," says Le-Ngoc. "We have a mandate to do this for Quebec, not just McGill." In order to connect the professional and university communities, SYTACom will organize roundtable sessions where industry representatives and academic researchers meet to discuss fruitful directions for research; the Centre may also offer short courses for industry professionals. "Communications is an important part of our economic milieu," Plant says. "Basically, the Quebec government has said, "We're betting on this research to stimulate interactions, connect industry and researchers and create start-up companies, in order to lead to new products and services' - they expect us to transfer our research into economic development."
Success could have long-term benefits to the host university and department, too. Previously, McGill had been home to the Canadian Institute for Telecommunications Research, a part of the National Centres of Excellence. As Maier Blostein, who established the CITR in 1989, points out, "When you're lucky enough to get opportunities like these, you have to take them." The recently established Agile All-Photonics Network and SYTACom, which coverge around telecommunications research, are the most recent beneficiaries of the Electrical and Computer Engineering department's proven capacity to manage these large-scale projects. "If we create an enviornment that connects researchers across the network and with industry, fosters and accelerates creativity, and helps them bring their ideas to fruition faster," says Plant. "then SYTACom will be a success." And Quebec, as well as McGill, will benefit.
Departmental News
A number of Department members have received accolades for their recent achievements: David Plant won McGill's Carrie M. Derick Award for Graduate Teaching and Supervision, presented in June; he was also promoted to full Professor. Peter Caines was named to the Royal Society of Canada; Tho Le-Ngoc received the 2004 Canadian Award for Telecommunications Research for his contributions to satellite and terrestrial wireless communications; Vince Hayward was elected to the level of senior IEEE member, and was keynote speaker at the Eurohaptics Conference in Munich in June; Benoit Boulet shared in the Best Presentation of Session Award as co-author of Delay-dependent Robust Output Feedback of Uncertain State-Delayed Systems with Saturating Actuators at the 2004 American Control Conference this past summer in Boston; graduate student Dany Dionne won one of the Faculty's Outstanding Teaching Assistant Awards this past spring; and student Tina Chen won the SNC-Lavalin Award. In addition, David Lowther resumed his position as Chair of the department after a sabbatical year.
In other news, the Regroupement Strategique proposal, headed by David Plant and Tho Le-Ngoc, was sucessful in establishing SYTACom, the Centre for Advanced Systems and Technologies in Communications. And in August, McGill hosted the 33rd International Conference on Parallel Processing (ICPP), the oldest conference in this area. For the occasion, Dr. Zeljko Zilic and his students built a wireless system for managing conference sessions in real time, an innovation that won plaudits for the McGill organizers.
Finally, through student contributions, the Engineering Undergraduate Society helped the Department finance the building of a new server room in the Lorne M. Trottier Building this past summer, reducing the load on the server room in the McConnell Building.
Frank Ferrie
Associate Dean, Research and Graduate Studies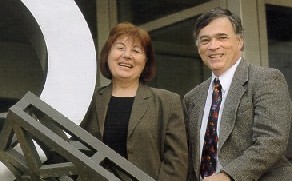 "I've been learning a lot about the Faculty," says Frank Ferrie, who was appointed Associate Dean (Research and Graduate Studies) this summer. "I've been in Electrical and Computer Engineering all my life, and it's an outstanding department, but excellent isn't limited to ECE - all of the departments are first class."
The new Associate Dean's first task involves assessing the Faculty's strengths to define a research strategy for the coming years. "What kind of initiatives are appropriate?" he asks. "In the old days, professors worked independently, got their NSERC grants, and taught their graduate students. But things have changed in the last ten years," he says. "It is difficult for individuals to have an impact. Across the University and the country, people are doing collaborative and interdisciplinary research."
In much new research - for instance, the university's nanotechnology initiatives, or the new design program - research teams are usually composed of people from different departments and even faculties. Fortunately, the question being addressed also transfer from one discipline to another. "If you take a look at the abstract nature of computational fluid dynamics, you're solving pretty much the same set of coupled, non-linear partial differential equations that in electrical engineering are called 'computational electromagnetics,' or in mechanical and civil engineering 'fluid flows,'" he explains. "In fact, there is an awful lot that unites us."
Ferrie would like to see the Faculty continue its legacy of important contributions to Quebec and Canadian society. "Taxpayers put a lot of money into research. McGill's take of the Canada Foundation for innovation program is over $400 million with provincial and other funding added in, a significant investment in the University." But that investment requires a pay-off: hence the need to develop the Faculty according to its areas of strength. "For example, we're very good at information technology, including telepresence, so how do we use that to make an impact?" he asks. He offers one hypothesis: Quebec health care facilities serve a large population that is spread far and wide. "So imagine putting a small terminal into a patient's home. He sits down a couple of days a week, sticks his hand on it and has vital signs taken. This information can then be sent to a medical practitioner at a CLSC, along with a video link, and in 15 minutes you carry out the visit," he says. The technology is multidisciplinary, involving electrical engineers and computer scientists, mechanical engineers and biomedical engineers, as well as medical and health care professionals. Other examples could easily be found in the fields of aerospace, nanotechnology, or environmental engineering, for instance. "We're trying to figure out how to effectively package what we have to make the maximum impact, while continuing our academic missions of teaching and research," Ferrie explains. "It is both intimidating and exciting."
Design 21:
Engineering for the Future
"Engineers are designers by definition," says Frank Ferrie, Associate Dean (Research and Graduate Studies). "Design is a unifying theme cutting across disciplines." The Faculty has been actively developing design's interdisciplinary potential, with Jorge Angeles, holder of the NSERC Chair in Design for Extreme Environments, leading the effort. In addition, this past summer McGill sponsored the first Conference of the Canadian Design Engineering Network. "It's the germ of something that is going to grow," says Ferrie.
The Faculty is also nourishing its Design 21 project, a new initiative spearheaded by Ferrie. Plans include a new building, tentatively called the McConnell Design Centre. "The architectural design would place different units in proximity - so virtually all the departments would front onto one space. This environment will bring together colleagues who never came into contact before," he says. "And once you get the social connections going, collaborations follow."
Teaming up with the University of Miami
"An exciting international venture with direct technological. educational and economic impact" is how Dr. M. Lewis Temares, Dean of the College of Engineering at the University of Miami, describes his university's new strategic alliance with McGill. McGill representatives Ian Butler, acting Vice-Principal (Research), and Frank Ferrie, Associate Dean (Research and Graduate Studies) of Engineering, met with their University of Miami counterparts on July 27, to ratify an agreement to wrok together in the fields of engineering and information technology. The signing was also attended by Quebec Premier Jean Charest and Florida Governor Jeb Bush. The initiative will see the two universities, both with strong interdisciplinary and multidisciplinary research programs, develop joint projects with international funding sources. Says Ferrie, "This partnership leverages the complementary research strengths of our universities."