Finance faculty members teach courses at the undergraduate, master's, and doctoral levels. At the undergraduate level, we offer Bachelor of Commerce major and concentration in Finance. We also offer a joint honours degree in Economics and Finance, and honours in Investment Management.
At the graduate level, we offer the Master of Business Administration concentration in Finance, as well as a PhD specialization in Finance.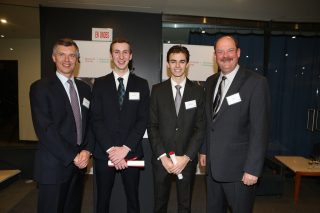 BCom students Neil McAlpine and Spencer Powell won the December 2012 Options Trading Simulation category of the MX competition
New for the 2013-2014 academic year is the Managing Risk of Trading Strategies course for undergraduate students. The course is based on real-life simulation-based trading cases. All classes are held in the Alphonse Desjardins trading lab.
The course aim is to expose students to trading cases which simulate the risks and opportunities associated with particular securities or strategies. The cases cover such areas of Finance as market microstructure (high frequency/algorithmic trading, liability trading, price discovery), as well as Commodities, Equity Valuation, Fixed Income, Mergers & Acquisitions and Options cases.
Students first learn the theories and common risk management practices of trading in different assets classes, and thereafter implement their knowledge by trading  in the simulated market environments. The best students are then selected to represent McGill at the Rotman International Trading Competition, attended by participants from major universities in the U.S.A. and Canada.