Desautels Faculty of Management is always spinning. There are always events and activities taking place in our Faculty everyday. You will can find information, pictures or video clips of our past events in our Alumni Photos and Alumni Videos albums.
From top to bottom and inside and out, Desautels has been enhanced by your philanthropy — your donations to the Desautels Faculty of Management and the Desautels Fund put more students in our classrooms, enhance the lessons on our white boards, renew the furniture in our study spaces, and send our graduates on to meaningful career paths when they finish their degrees. By making an annual gift, you allow us to host student conferences, provide career coaching and mentoring, and the expertise of seasoned business leaders in our classrooms.
Gifts from our alumni and friends are crucial in helping the Faculty move forward. Each contribution, however big or small, goes a long way. With your help we can continue to offer our students the support they need to go on and make their own mark in history.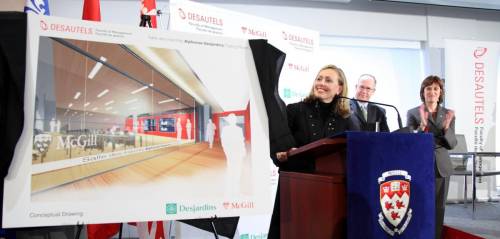 Take some time to learn more about:
Desautels offers many opportunities and ways to volunteer your resources to both current students and fellow alumni.
Mentor current Desautels students through the BCom Mentorship Program as well as the MBA Mentorship Program, programs that prepare students for their degrees and their careers
At the Desautels Faculty of Management we believe in integrating teaching, research and practice. We aim to capture the pioneering research of professors along with the insights and expertise of top business practitioners to create unique and exceptional programs and course content. This allows us to maximize intellectual exchange and stimulate innovation in the classroom and in our research, which feeds directly back into business practice. 
Pages