Desautels students have an extensive history of outreach initiatives which demonstrate outstanding leadership and dedication to creating positive change.
Conferences, careers, and consulting initiatives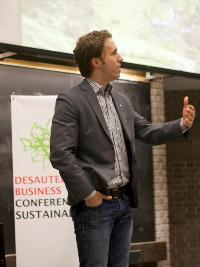 Craig Kielburger at the Desautels Business Conference on Sustainability
The Desautels Business Conference on Sustainability is an inter-university, student-run annual conference, with an audience of students coming from all across Canada. The conference invites leading experts from corporation, non-government organizations, and academia to speak to students and present them with the tools and knowledge they need to help ensure a sustainable future.
The Sustainable Business Conference Business Beyond Tomorrow:  is a unique initiative that brings together the Montreal student community, corporate leaders, and sustainable leaders to discuss sustainable business practices.
McGill Not-For-Profit Consulting gives students the opportunity to get consulting industry experiences, get to know the NGOs in Montreal and make a lasting impact on the Montreal community.
The Desautels Management Leadership Seminar is organized by Desautels students and provides a forum for first-year undergraduate students to learn about leadership. Guest speakers are encouraged to speak about the importance of CSR and leadership in the community. Groups and societies
S.T.O.P. (Shaping Tomorrow's Organizational Practices) consists of business students who promote the need for responsible business practices. These practices include sustainable development, corporate governance, and the obligation of business to society.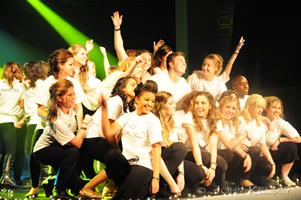 CASCO (Commerce and Administration Student Charity Organization)
CASCO (Commerce and Administration Student Charity Organization) is a student-driven initiative that raises money to support the Montreal Children's Hospital. Every year, the McGill Chapter of CASCO presents a dance and fashion show in November that involves student performers from across the McGill campus. It is an organization that is at the forefront of a powerful movement: students (in particular, business students) demonstrating social responsibility.
P[h]assion promotes HIV/AIDS awareness to Desautels students and the Montreal community. Throughout the year P[h]assion holds numerous fundraising events, including hype parties, bake sales, a sample sale, a silent auction, and its March fashion show.
McGill Sustainable Health Care Initiative is a joint initiative between the Desautels Faculty of Management and the Faculty of Medicine. The aim of this initiative is to expose future managers to the concerns health care practitioners have in terms of patient outcome while reducing the carbon footprint of a medical institution while sensitizing future health care practitioners to the practices of sustainable operations and "green" management.
MBA Net Impact offers an opportunity for members to broaden their business education and exposure to socially responsible organizations, refine their leadership skills through participation in socially responsible activities that give back to the community, and, of course, build their network.
Right To Play McGill is an initiative of a group of Desautels MBA students, who work within the student community to fundraise for the Right To Play Foundation, whose mission is to improve the lives of children in the most disadvantaged areas of the world by using the power of sport and play.
OUTlook on Business was founded to help gay, lesbian, bisexual, transgender, and queer/ questioning students, as well as "allies" (friends of LGBTQ-identifying students), in the Faculty learn to understand and manage workplace sexual diversity concerns. As a professionally-oriented club, OUTlook collaborates with Career Services and other MUS clubs to host events that educate students about how to promote an open and accepting organizational culture. By supporting these values the club both enables and empowers LGBTQ-identifying students to feel comfortable studying management and related fields.
Management Sustainability Network (MSN) advocates for responsible business practices and takes interest in exploring issues of sustainable development, corporate governance, and the relationships between economic, social, and environmental stakeholders. The club helps connect students who promote the need for responsible and sustainable practices today. MSN provides various platforms to discuss, debate, facilitate connections, and ultimately brings stakeholders affected by business practices closer together.
Competitions and other events
The Dobson Cup Business Plan Competition is an annual opportunity for budding entrepreneurs to showcase their business ideas and not-for-profit startups. It is hosted by the Dobson Centre for Entrepreneurial Studies.
The McGill Management International Case Competition (MMICC) is a world-class undergraduate competition with a focus on globalization, innovation, and multi-disciplinary thinking. The competition includes cases related to environmental issues and CSR.
The Management Achievement Awards honours Canadian business leaders who have made significant and valuable contributions to the Canadian economy and way of life, through their success in business and involvement in the community.
Hot Cities - South Africa
The Hot Cities of the World Tour: Taking the Future to the Future is an annual trip allowing Desautels students to experience firsthand the world economies of tomorrow. During the 2012 trip to South Africa, students wanted to highlight some of the country's social problems and raise money for charity. Through an aggressive social media campaign, they managed to raise over $18,000 to support the education of orphaned and vulnerable children in South Africa.
The Annual Cancer Auction is a charity auction organized by undergraduate Desautels students to benefit the Canadian Cancer Society. Generous companies donate items that are auctioned off to students.
5 Days for the Homeless is a charity campaign founded in 2005 by students from the University of Alberta. It is a five day campaign during which university students live like the "homeless" on campus to raise money and awareness for a local charity. Our local charity is Le Bon Dieu dans la rue, which has been a leader in working with Montreal street kids since 1988.