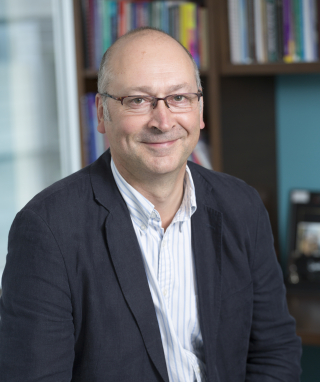 The Faculty of Dentistry at McGill University has never been a more exciting place to be, bursting with new opportunities and resources that are enabling our talented students and faculty members to teach, learn, conduct research and serve our community like never before.
Much of this excitement is thanks to our new, state-of-the-art facilities at 2001 McGill College Avenue, on the corner of McGill College and Sherbrooke West. Located across from the Roddick Gates in the heart of downtown, just steps from public transit, this freshly renovated space brings together the clinical and preclinical training facilities for the DMD program, the clinical and community research faculty with their graduate students and the Faculty administration. Even though we've only been in our new home for a few months, we are already experiencing the many benefits of this cutting-edge teaching and learning facility, which is not only more accessible to our patients, but is also designed to optimize interactions among our community of clinicians, students and faculty members. We have always had outstanding students, professors and staff members in Dentistry— now we have facilities worthy of their talents.
Of course, our ability to make such a vital move is thanks to the generosity and commitment of our outstanding alumni and students. Throughout our history, the story of our Faculty has been inextricably entwined with that of our alumni. Throughout the years, we have built on our success in clinical training working hand-in-hand with our faculty members, many of whom are our own alumni. Together, we have created exceptional research programs and award-winning community outreach programs to provide free dental care for vulnerable members of the community. And none of this would have been possible without the generosity, advocacy and engagement of our community of friends and graduates.
Beyond our new clinic, many important components of the Faculty continue to operate from locations on campus, in the hospital system and in the community. Most of our researchers and their graduate students in pain, biomaterials and mineralized tissues remain with collaborators on the main downtown campus. Similarly, the Oral and Maxillofacial Surgery and General Practice Residency programs carry on at the Montreal General Hospital, Montreal Children's Hospital and Jewish General Hospital.
The Faculty's well-known community outreach program, true to its name and purpose, extends throughout the Montreal community. This includes the mobile dental care delivered in community centres the Jim Lund Clinic at Welcome Hall Mission, the refugee and immigrant child dental clinic at the Montreal Children's Hospital and the Summer Clinic for persons with physical disabilities at our main undergraduate teaching clinic every July. And we continue to offer a range of continuing education programs to dental professionals, enriching the quality of care provided to patients in Montreal and beyond.
Whether in our new facility, on campus, in McGill's teaching hospitals or out in the community, all of our diverse programs work synergistically, ensuring that every aspect of our diverse teaching, research and outreach mission offers excellence in teaching, learning and care. We welcome all of you - prospective and current students, graduates and alumni, faculty and support staff - to become part of our team.
Paul Allison
Dean, Faculty of Dentistry