July 24th, 2014
2nd floor undergraduate clinic being finalized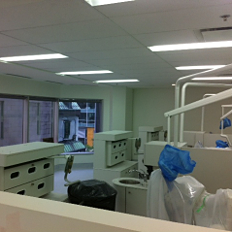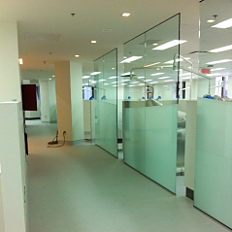 ---
Archives
June 5th, 2014
pre-clinic_labjune4_-_broadband.m4v
Construction in the the pre-clinical laboratory is coming along well!
---
May 22nd, 2014
Our move has begun!
The faculty's Dean area, Student Affairs, CE and Admissions are moving this Friday to our new location at 2001 McGill College. Please note these divisions are off on Friday due to the move. Staff will be operating from the new location as of Monday and settling in. (Thank you for taking into consideration that Monday will be a day during which phones and computers are being set up. If you are attempting to reach anyone, please allow for possible delays).
---
May 8th, 2014

Floors are in, and administrative offices are almost ready. Larger view
---
April 24th, 2014

1st floor. Larger view

2nd floor (clinic). Larger view

5th floor offices. Larger view
---
April 10th, 2014

Pre-clinic. Larger view

Stairs. Larger view

Office colour. Larger view
---
March 27th, 2014

5th floor offices. Larger view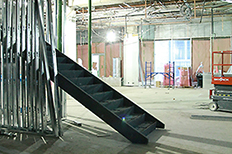 Stairs from the 1st to 2nd floor. Larger view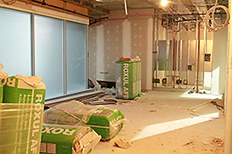 The dispensary. Larger view
---
February 27th, 2014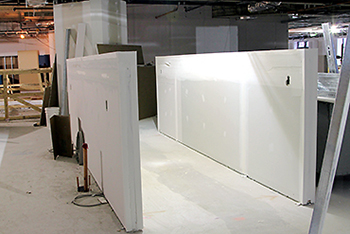 Walls are going up!
---
February 13th, 2014


1st floor of the new facility under construction. (Photo Ioana Dumitru) Larger view

The 2nd floor of the new facility - orange cones indicate where dental chairs will be set up. (Photo Ioana Dumitru)

 (Photo Ioana Dumitru)
---
January 30th, 2014
internal_news_jan_30.m4v
First floor under construction at the New Facility
November 21st, 2013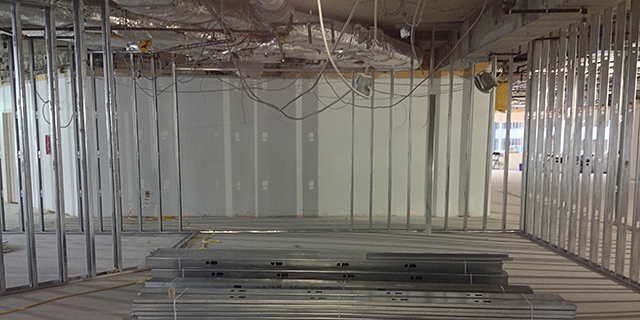 Walls are going up!

Ventilation is going in!

Red marks on the floor indicate where walls will be.
---
November 1st, 2013
It was a year in the making from strategizing and fundraising to event planning and our unveiling, but it all unfolded beautifully and successfully. We are happy so many of you were able to be present. Our new facility campaign has officially begun! Here are a few photos from the special day on October 18th. View more photos here
Valerie Khayat (Communications), Ioana Dumitru (DAR) and Christina Vroom (Associate Director DAR)

The October 18th event attracted close to 230 members of the Faculty, supporters and friends

Dean Allison, Principal Fortier and DSS President Sina Hashemi during the breakfast reception prior to the announcement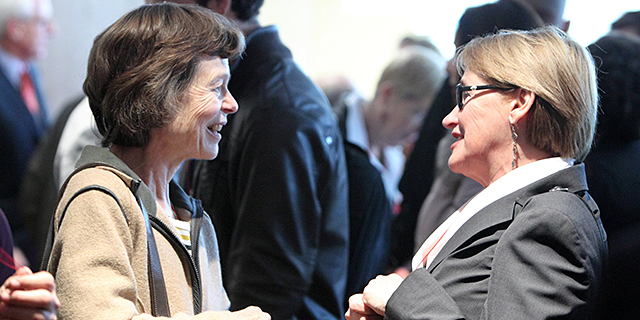 Principal Fortier speaking with an alumna of the Faculty

Principal Fortier

Dean Allison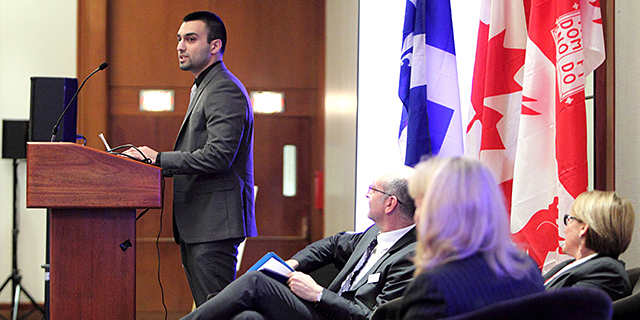 DSS PResident Sina Hashemi delivers his speech as Dean Allison, Principal Fortier and Deputy Mayor Jane Cowell-Poitras look on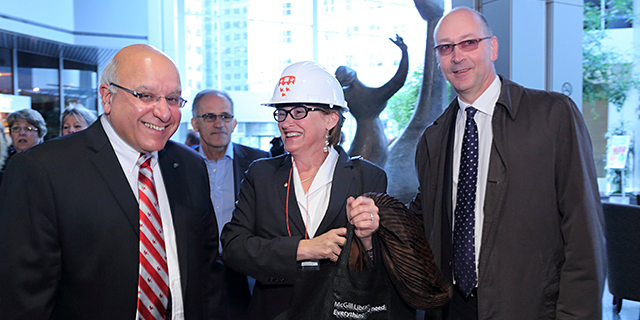 Provost Masi, Principal Fortier and Dean Allison at the new site (currently undergoing renovations)
---
September 12th, 2013
Preparations for the renovations have begun!

1st floor of the New Facility, 2001 McGill College Avenue

5th floor (administrative offices) New Facility, 2001 McGill College Avenue
A quick look at the first floor of the new facility as it is being prepared for renovations
---

July 8th, 2013
A Message from Dean Allison
paul_video_july8.m4v

Dear colleagues,
It gives me enormous pleasure to announce that the University has just signed an agreement with the owners of space at 2001 McGill College, just opposite the Roddick Gates,  to lease space and renovate and equip it for the Faculty's new facility. This facility will include our main undergraduate teaching clinic, our preclinical simulation laboratory, classroom teaching space, meeting rooms, the Dean's and Student Affairs' Offices and researchers, staff and students in the Division of Oral Health & Society. This is a truly momentous, historic moment for the Faculty, bringing together the majority of our members in one site for the first time in the Faculty's history.
Much work has already been done in planning the space and much work remains over the next year as the space is renovated and equipped ready for us to move in during the summer of 2014. As this wonderful project moves forward, I invite you to visit our website where there will be regular updates. In addition, the e-flashes will contain regular information, and in September and into the autumn we will have several events to enable everyone in the Faculty to be informed about the project and ask questions. A highlight will be a big announcement event as part of the Homecoming weekend on October 18th – more information to follow on that.
Of course all the work already done and to be done over the next year has been tremendous and I would like to take this opportunity to thank all students and academic and non-academic staff who have been involved so far and will be as we move forward. I would also like to acknowledge the enormous amount of work done by many people throughout the University to support this Faculty of Dentistry project.
Finally, let me take this opportunity to wish you all a wonderful and restful summer and I look forward to working with you all in different ways towards our move to this fantastic new facility.
Best wishes
Paul
---
May 2nd, 2013

Dean Allison and Ioana Dumitru (Development Associate), in Toronto with Faculty Alumni.
---
April 11th, 2013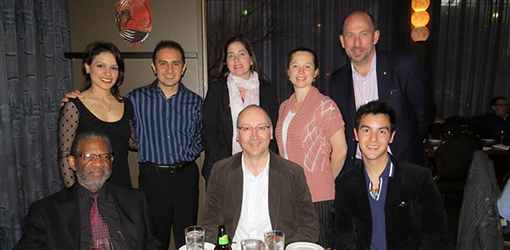 Dean Allison and Nathalia Porras, our Development Officer, travelled to California during a successful trip to raise funds for the Faculty and meet many Alumni.
---
February 14th, 2013
New Facility Update
A message from Dean Allison
As many of you will know, our Faculty must leave the MGH space we currently occupy by August 31st 2014. The University is currently working hard on our behalf to secure new space for our Faculty adjacent to the main campus. I am happy to report that negotiations are going well and a formal announcement should be forthcoming this spring. In the meantime, in the Faculty, as a team we have been working very hard on the architectural plans for the space, preparing in such a way as to best accommodate the needs of our undergraduate program, graduate training, continuing education and clinical research to continue fulfilling our mission with even greater success. This move not only involves colleagues from the MGH. It is a very exciting opportunity to bring the heart of our Faculty, including clinical and preclinical training, the Dean's Office, and clinical and public health research all together to one new site, one new home for us all.
Thanks very much to the many people who have been providing essential feedback as we move forward with plans and thanks to Jeff Myers for all his dedicated work in leading this process. Watch this space and other communications to keep up to date with this momentous project for our Faculty.