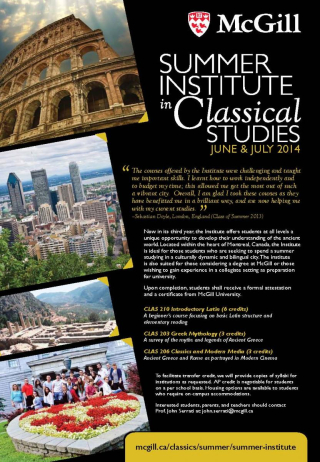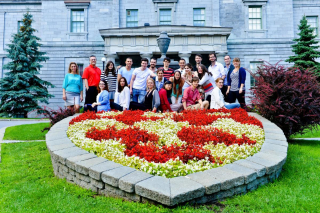 Now in its third year, the Institute offers students at all levels a unique opportunity to develop their understanding of the ancient world.  Located within the heart of Montreal, Canada, the Institute is ideal for those students who are seeking to spend a summer studying in a culturally dynamic and bilingual city.  The Institute is also suited for those considering a degree at McGill or those wishing to gain experience in a collegiate setting as preparation for university.  An intensive introductory course in Latin is complemented by classes on classical mythology and ancient civilization, with an aim of fostering the understanding of ancient Mediterranean history and culture.  McGill University stands at the foot of Mount Royal in downtown Montreal, and is in close proximity to Ottawa and Quebec City.  As such, the Institute integrates many of the cultural offerings from these vibrant cities into its program.
Summer courses for 2014:
CLAS 203 Greek Mythology 3 credits (16 June-10 July)
Terms: Fall 2014; Summer 2014
Instructors: Margaret Palczynski; John Serrati

CLAS 206 Classics in Modern Media 3 Credits (14 July-11 August)
Terms: Summer 2014
Instructors: Francois Gauthier

CLAS 210 Introductory Latin 1 6 credits (16 June-4 August)
Terms: Summer 2014
Instructors: Martin Sirois
Upon completion, students shall receive a formal attestation and a certificate from McGill University.
To facilitate transfer credit, we will provide copies of syllabi for institutions as requested.  AP credit is negotiable for students on a per school basis.  Housing options are available to students who require on-campus accommodations for the duration of the course(s) at McGill.  Interested students, parents, and teachers should contact Prof. John Serrati john [dot] serrati [at] mcgill [dot] ca for more information.
---
What some people have said about the Summer Institute:
"The courses offered by the Institute were challenging and taught me important skills.  I learnt how to work independently and to budget my time; this allowed me get the most out of such a vibrant city. Overall, I am glad I took these courses as they have benefitted me in a brilliant way, and are now helping me with my current studies."
—Sebastian Doyle (London, England)
"Not only was I able to learn from outstanding professors in the McGill Institute , I was able to live for two months as a college student!  My two summer courses in Classics not only helped me to get ahead of my studies at my high school, they instilled in me valuable life lessons that I will never forget."
—Juliana Van Amsterdam (Natick High School, Natick, Massachusetts)
"The Summer Institute delivered on its promise of a first-class educational experience.  The program was rigorous and required consistent effort and attention to keep up with the work.  As a result, our daughter was able to experience a demanding university environment while still in high school.  Her ability to develop the skills necessary to do well in the coursework at McGill's Summer Institute has translated to her present course of study."
—John and Kristine Van Amsterdam