Core Researches: Hans  Beck (McGill), John Serrati (McGill), Martin Jehne (Dresden)
Sponsors:
* The Thyssen Foundation, Germany
* Social Sciences and Humanities Research Council (ARWC Program)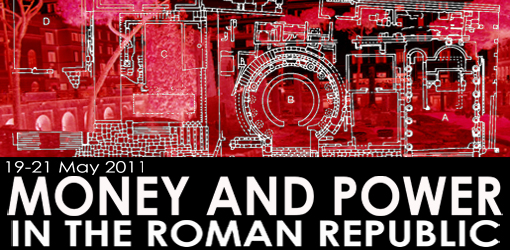 Rome's transformation from a regional force in Latium into a Mediterranean superpower was accompanied by an accelerated change of economic realities. The persistent influx of vast natural and monetary resources from abroad deeply altered the basis of Rome's military. Also, as state income skyrocketed, the exercise of political influence at Rome became increasingly intertwined with issues of personal finance. Despite claims for frugality, the political power of senatorial families was always determined through the accumulation of wealth. By the 1st century BCE, the competition of these families for rank and recognition was dramatically wrapped up with access to monetary capital and economic resources. When the republic finally fell, this was also due to a financial crash that hit the very centre of Roman society.
In May 2011, we held a workshop at McGill that targeted the intersection of political culture and economic realities at Rome. The meeting embarked from a pragmatic definition of money as asset to conduct economic transactions. Wealth was considered as a significant accumulation of those assets. To disclose the interconnectedness of political power, social status and wealth, our conference explores four topical clusters that were formative to Rome's money-power-matrix: (1) Agents and Interests; (2) Discourses on Money and Power; (3) Public Income and State Action; (4) Wealth and Status.
The line-up of speakers included a blend of 21 historians and classicists from eight countries: David Hollander (Iowa); Sylvie Pittia (Reims); Kaj Sandberg (Turku); François Gauthier (McGill); Elio Lo Cascio (Naples); Hans Beck (McGill); Antonio Dupla (Vitoria); Brahm Kleinman (McGill); Francisco Pina Polo (Zaragoza); Cristina Rosillo Lopez (Sevilla); Ralph Covino (Tennessee); Bruno Bleckmann (Düsseldorf); John Serrati (McGill); Claude Eilers (Hamilton); Nathan Rosenstein (Ohio); Kathryn Welch (Sidney); Leopold Migeotte (Quebec City); Martin Jehne (Dresden); Jonathan Edmondson (York); Elisabeth Deniaux (Paris); Wolfgang Blösel (Cologne).
The workshop dossier is presently with Oxford UP for consideration.