March, 2007
New Centre Member
Congratulations to the newest member of the Centre, Florence Dzierszinski, who has just received a Tier 2 Canada Research Chair in Parasite Pathogenesis. Florence recently joined the staff at the Institute of Parasitology, McGill from the University of Pennsylvania. The Chair will allow Florence to study the molecular interactions between intracellular parasites and their host cells. She is particularly interested in gaining new insights into toxoplasmosis and related parasites, as well as parasite persistence in immune privileged areas. The program will study the genetics, cell biology and immunology of parasite molecules involved in pathogenesis, as well as host immunity
Linked to the Chair are a CFI grant ($150,000) and Quebec and supporting contributions (total value $375,000), which will support the purchase of a deconvolution imaging platform (Z-stacks, live imaging, 4D time-lapse, FRET, photobleaching). This new platform will also be available to Centre members.
November, 2006
Dr Mariela Segura receives the L'Oréal-UNESCO Women in Science Research Excellence award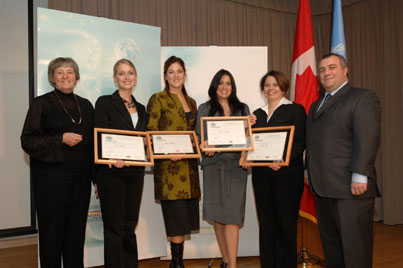 Congratulations to Dr Mariela Segura, Postdoctoral Fellow working with Centre member Dr Mary Stevenson, Centre for the Study of Host Resistance, McGill. Dr Segura has been awarded the L'Oréal Canada for Women in Science Research Excellence Fellowship, with the support of the Canadian Commission for UNESCO. In recognition of her excellent studies on the interactions of Streptococcus suis, an important swine and human pathogen. Only two such awards are made in Canada. The L'Oréal-UNESCO fellowships program, recognises outstanding women in science and considers applicants from around the world. Since the programs inception in 1998, 252 women from 63 countries have received the award.
Congratulations to Dr Zhong Su
Dr Zhong Su, one of the Centre's Research Associate Members, has accepted the position of Priciple Investigator, at the Guangzhou Institute of Biomedicine and Health, Chinese Academy of Sciences. Zhong has been a member of the Centre since April 2005 and has been a presenter at our symposiums and recipient CHPI travel awards. With Centre support he was able to to accept an invitation from Dr Gottschalk (U de M-St Hyacinthe) and the Chinese Centre for Disease Control and Prevention to join an official mission to the PRC to investigate an outbreak of Streptococcus suis in pigs and humans. In his new position he will continue to work in the area of infectious disease immunology and hopes that he can maintain links with his colleagues in Quebec and Canada.
May, 2006
Quebec Parasitology Symposium
The Sixth Annual Quebec Parasitology Symposium organized by the FQRNT Centre for Host-Parasite Interactions (CHPI), was held on the 17 & 18 May, 2006 in association with 74e Congrès de l'ACFAS which was hosted this year by McGill University. The sessions were held at the Macdonald Campus with about 90 attendees.
Many thanks to the program organizers Roger Prichard, (ACFAS) and Paula Ribeiro and Armando Jardim (CHPI) and to Mary Solana for her invaluable help in putting the program and abstract document together and taking care of the many organizational requirements to ensure a successful symposium. Thanks also to Kristi Bangs and Guanhua Wang for their help with the registration desk, and graduate students Jeff Eng and Peter Lee for ensuring flawless continuity of the PowerPoint presentations.
Our thanks also to our guest speakers:
Dr. Christian P. Vivares, Université Blaise Pascal, France
Dr. Murray Selkirk, Imperial College, London
Dr. Paul Roepe, Georgetown University, Washington
Dr. Philipe Gros, McGill University, Montreal
Congratulations to our Graduate Students who all gave outstanding posters and presentations and made the job of our judges particularly difficult. We also thank the judges for their time and effort.
Best Poster
Judges:
Bernadette Ardelli, Institute of Parasitology
Robert Lodge, INRS - Institut Armand-Frappier
Conan Chow, Infectious Disease Research Centre, CHUL
Recipients:
Ana Pilar, Institute of Parasitology, McGill,
Ana Contreras, Dept Microbiology and Immunology, McGill
Marie-Josée Bellemare, Dept of Chemistry, McGill
Best Oral Presentation
Judges:
Gaetan Faubert, Institute of Parasitology
Tatiana Scorza, UQAM
Albert Descoteaux, INRS-IAF
Reza Salavati, Institute of Parasiology
Recipients
Mathieu Cambos, Dept des sciences biologiques, U. Québec
Michail Nyisztor, Institute of Parasitology, McGill
Wilfried Moreira, Centre de Recherche en Infectologie du CHUL
Lisa Purcell, Institute of Parasitology, McGill
Aws Abdul-Wahid, Institute of Parasitology, McGill
Michaela Moller, Centre de Recherche en Infectologie du CHUL
April 2006
CHPI has sent out its first eNewsletter. The newsletter is designed to keep centre members and their trainees informed of Centre news and events. All members and trainees are invited to contribute to the Newsletter. All issues of the newsletter will be accessible under "Centre Documents" on the CHPI website menu.