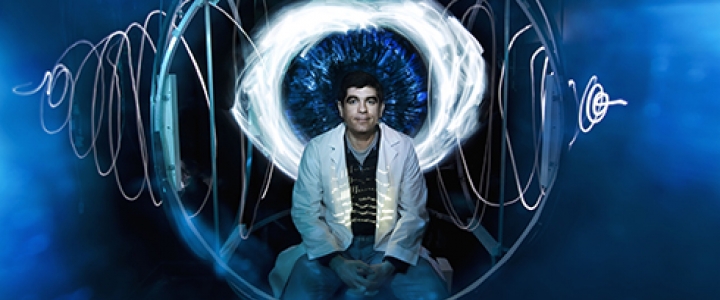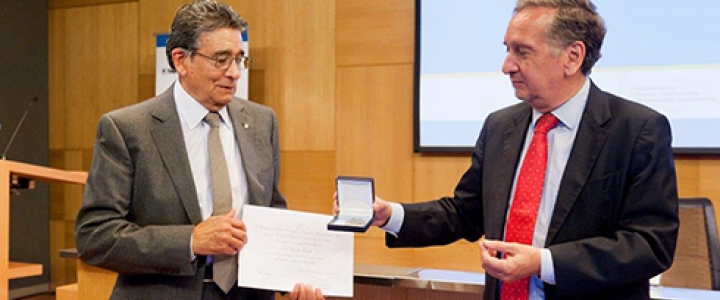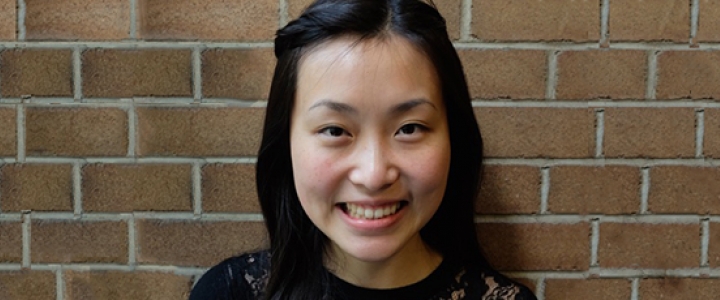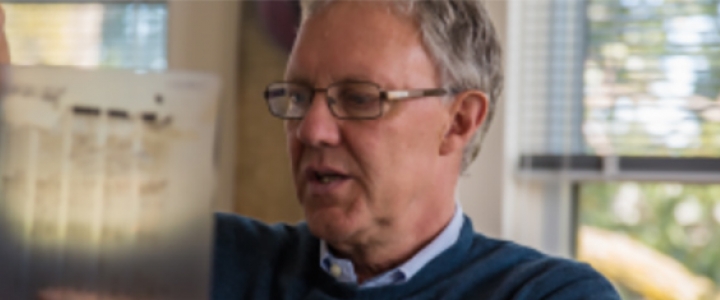 Brain @McGill showcases the vast amount of neuroscience knowledge within the McGill University network.  It brings together hundreds of very bright people, world-leading projects and the wisdom of almost a century of pioneering study in the neurosciences. Today's neuroscience research demands interdisciplinary collaborations and intense networking between leading institutions.  Brain @McGill, in partnership with other internationally renowned neuroscience institutes, offers such a framework to promote and sustain innovative research projects and to tackle unmet medical needs through a unique reservoir of world-class expertise.
---
MCGILL IN THE NEWS                                                                              
Wilder Penfield Digital Collection launched
29 June (what'snew.communications @McGill)
Researchers open new path of discovery in Parkinson's disease (Heidi McBride)
27 June (Neuro News)
High-Tech Tools Show Promise for Stroke Recovery (Mindy Levin)
26 June (Wall Street Journal)
The Brain does not take vacation! (Salah El Mestikawy)
25 June (Ici.Radio-Canada)
$4M boost for intellectual disabilities research
23 June (Med e-News)
Decoding connectivity (Alan Evans)
22 June (Med e-News)
10 new facts about the brain
21 June (Med e-News)
Seeing what the eyes are telling us (Christopher Pack)
20 June (McGill Reporter)
Exercising hours after learning improves memory recall (Marc Roig)
20 June (Immortal.org)
Creation of neuroscience research hub
15 June (McGill Reporter)
Antidepressive treatment during pregnancy can affect newborn brain activity (Outi Mantere)
15 June (Neuroscientist News)
ALS Awareness Month - June 2016
13 June (Neuro News)
Our brains are biggest before dawn
8 June (Inverse.com)
New blood test may be able to find best antidepressant match, study says (Gustavo Turecki)
6 June (Washington Post)
Marking Stroke Month - June 2016
6 June (Neuro News)
Are EEG neurofeedback benefits due to placebo effects? (Robert Thibault and Amir Raz)
3 June (Med e-News)
---
NEWS FROM ACROSS THE WORLD
(news in English, French and German)

Neuroblog.fr
L'actualité de la recherche sur le cerveau
Mind & Brain
Scientific American
Hirnforshung
Spiegel Online  
---
We are pleased to announce the 2015 Bloomfield Award Recipients (for graduate students/postdocs at Tel Aviv University to travel to McGill):

Shlomo Sragovich (McGill Host labs: Profs. Kevin Petrecca and Anne McKinney)
Defending the brain against chemotherapy and radiotherapy induced neurotoxcity : The link between cancer and neurodegeneration
Rachel Posner (McGill Host lab: Prof. Michael Hendricks)
Epigenetic regulation of behavior variability
Yuvraj Joshi (McGill Host lab: Prof. Adam Hendricks)
Regulation of microtubule dynamics by neurotrophins
Nadav Aridan (McGill Host lab: Prof. Lesley Fellows)
Studying novel methods for motivational change in rehabilitation
Read more about the Bloomfield Award
---
New round of calls for projects within the Oxford - Brain @McGill - ZNZ Partnership in the Neurosciences:
Application Deadline:14 December 2015
Decision Expected by: 1 February 2016
Earliest Start Date: 4 April 2016
Travel awards for McGill graduate and postdoctoral students:
Funding will enable students to go to laboratories of our partners in Oxford and ZNZ:
Osler Graduate/Postdoctoral Research travel award for McGill students/fellows to visit Oxford
(Deadline: 30th April 2016)
Training opportunities for McGill students/postdoctoral fellows to visit ZNZ
Funding will also support students travelling to McGill from ZNZ or Oxford:
Laszlo and Etelka Kollar Brain@McGill Graduate/Postdoctoral Travel Award for students from ZNZ or Oxford to visit McGill 
(Open Call)
---
---
BrainReach Awarded First Prize by the CAN Advocacy Committee for Outreach!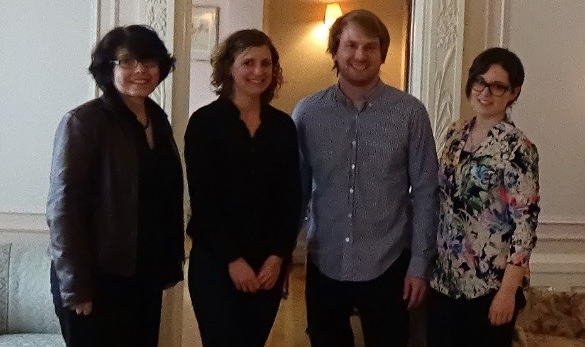 From L to R: Dr. Josephine Nalbantoglu (Dean, GPS), Kelly Smart (BrainReach North), Maxime Robert (BrainReach High School), and Falisha Karpati (BrainReach Elementary).
The IPN would like to congratulate the BrainReach team for winning the Canadian Association of Neuroscience Advocacy Committee Award for "best student initiative promoting neuroscience to the public". As the CAN Advocacy Committee wrote, the Committee "was especially impressed by your level of organization, the number of students you reach every year, and its availability outside of big urban centres… BrainReach Mcgill is an impressive group of neuroscience advocates and ambassadors, and we want to congratulate you for your efforts. CAN is very proud to present you with this prize." 
---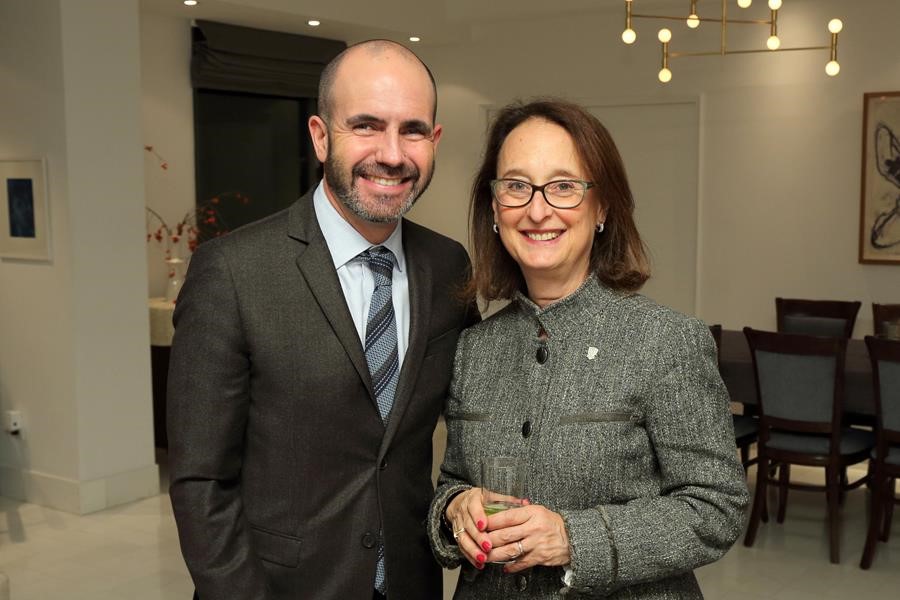 Mr. Ziv Nevo Kulman and Dr. Rosie Goldstein
Excellence in Neuroscience Research: A Partnership in Discovery, December 1, 2015
On December 1 2015, McGill University, in collaboration with Canadian Friends of Tel Aviv University, hosted a gathering at the home of Mr. Ziv Nevo Kulman, Consul General of Israel in Quebec and Atlantic Canada. Marc Weinstein, VP of University Advancement at McGill, Dr. Rose Goldstein, VP of Research and international Relations at McGill, and Meir Buber, Senior Resource Executive, Tel Aviv University, invited guests to attend this exclusive event to celebrate the rich and growing partnership uniting McGill University and the Montreal Neurological Institute with Tel Aviv University.
Featured guest speakers included Anne McKinney,  PhD, Professor in the Department of Pharmacology and Therapeutics, and Chair of Brain @McGill, and Dr. Ziv Gan-Or, MD and PhD from Tel Aviv University, who is currently conducting a post-doctoral fellowship at the Human Genetics Department and Montreal Neurological Institute of McGill University. Guests enjoyed presentations from both experts, as well as an opportunity to discuss the future of neurological research.
---
We are pleased to announce the results of the selected applications for the latest call for Tripartite (Oxford–Brain @McGill-ZNZ) projects:

Oxford PI:  Uzay Emir
McGill PI: Jamie Near
Title: Neurochemical changes in rat brain during optogenetic stimulation of the reward system
Type: Pilot Project
Oxford PI: Noel Buckley
McGill PI:  Stefano Stifani
Title: Mechanisms underlying the tumour-forming ability of brain cancer stem-like cells
Type:  Pilot Project
ZNZ PI: Reto  Huber
McGill PI: Mallar Chakravarty
Title: Investigation of training induced shape and volume changes within the Basal Ganglia in patients with spinal cord injury
Type: Pilot Project
---

Congratulations to our new Kollar Award Recipients!
  
Mariana Zaichuk and Vinita Jagannath are the news recipients of the Laszlo and Etelka Kollar Brain @McGill Graduate/ Postdoctoral Research Travel Award  Read More
---
Congratulations to our McGill PIs who were recently awarded funding from the Velux Foundation for projects on Healthy Aging 

Lesley Fellows, Nancy Mayo and Jens Pruessner from McGill and Phil Tobler from ZNZ will receive over $665,000 over three years for their project titled: Motivating change, changing motivation:  A neuroscientific examination of effort evaluation and engagement in healthy older adults. 
The second project that was awarded funding is led by Gerd Multhaup from McGill and Luka Kulic and Christoph Hoch from ZNZ. They will receive over $530,000 over three years for their project titled: Innovative Aß34 Diagnostics to Discriminate Healthy Aging from Prodromal Cognitive Decline.
---
We are pleased to announce the first recipient of the Zavalkoff Award (for McGill postdocs / graduate students to travel to Tel Aviv University):

Melanie Banina (McGill lab: Dr Mindy Levin)
ENHANCE: Enhancing brain plasticity for sensorimotor recovery in spastic hemiparesis
Read more about the Zavalkoff Award  (Open Call)
---
---
Good Reads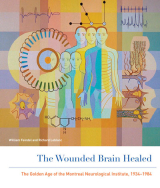 The Wounded Brain Healed
The Golden Age of the Montreal Neurological Institute, 1934-1984
Published May 2016

By William Feindel and Richard Leblanc
Published for the Montreal Neurological Institute
The Wounded Brain Healed  by William Feindel and Richard Leblanc, covers a period when EEG was developed as a useful clinical tool, mesial temporal sclerosis was described, and the role of the hippocampus and amygdala in temporal lobe epilepsy was discovered. It was a time when the structure-function relationship of the cerebral cortex was ascertained, the supplementary motor area was discov­ered, and the relationship of handedness to cerebral dominance was established. The hippocampus was found to be the site of short-term memory and the concept of the plurality of memory was formulated. Computed tomography scanning, magnetic resonance imaging, magnetic resonance spectroscopy and positron emission tomography were introduced to North America, among other technological advances.   Read more