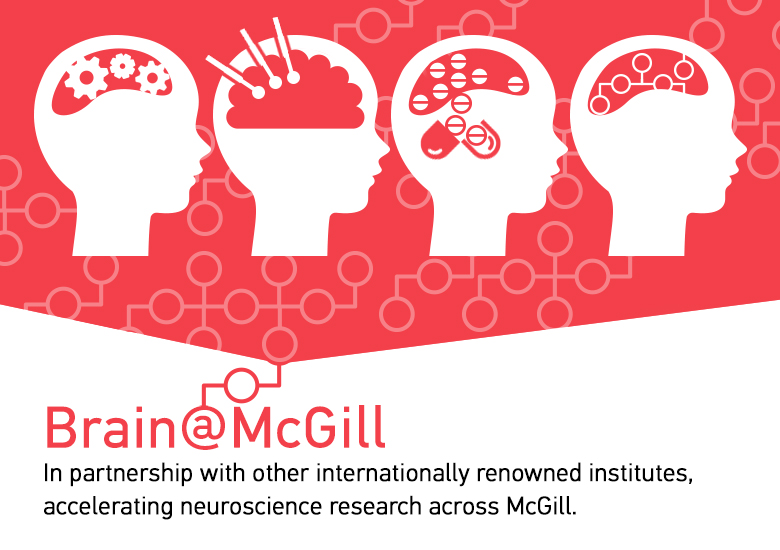 ---
McGill in the News
Severe bullying in childhood tied to mental health woes in teens
19 January (Med e-News - CMAJ)
Alzheimer's disease: neuronal loss very limited
17 January (Med e-News)
Trump's cognitive test was created by a Lebanese immigrant to Canada, Ziad Nasreddine
17 January (Washington Post)
Being bilingual may help autistic children (Aparna Nadig)
16 January (Med e-News)
Flawed research methods exaggerate the prevalence of depression (Brett Thombs)
16 January (Med e-News)
Progression of Parkinson's disease follows brain connectivity
12 January (Med e-News)
A Scientist's Gender Can Skew Research Results (Jeffrey Mogil)
10 January (NPR)
McGill researchers contribute to three of 10 'discoveries of year' selected by Quebec Science for 2017
5 January (Med e-News)
Athletes more aware of concussion symptoms, but are still playing through: McGill study (Scott J. Delaney)
5 January (CTV News)
Many McGillians honoured by Governor General with the Order of Canada
4 January (McGill Reporter)
Five New Year Resolutions to Improve your Mental Health (Rob Whitley)
1 January (Psychology Today)
Sugar cravings may be due to dopamine dysfunction (Patricia P Silveira)
20 December (Med e-News)
A non-invasive method to detect Alzheimer's disease
19 December (Neuro News)
Religion and Mental Health: What is the Link? (Rob Whitley)
18 December (Psychology Today)
Being a musician can help you decipher language in loud environments (Yi Du and Robert Zatorre)
14 December (Med e-News)
What happens in the womb matters to your child's mental health (Patricia P Silveira)
14 December (Ludmer Center News)
Guy Rouleau reappointed MNI director
13 December (McGill Reporter)
Faces of the opioid crisis: Pain expert on the puzzle of what to prescribe (Yoram Shir)
13 December (McGill Gazette)
Montreal Artificial Intelligence Start-Up Ranked in Top 10 of International $5M IBM Watson AI XPRIZE Competition
8 December (Med e-News)
New Open Science partnership will pave way for better treatments, faster
7 December (Med e-News)
$9 Million for McGill research through CRC Program
6 December (McGill Reporter)
Legalizing cannabis in Canada: What next? (Marco Leyton)
5 December (McGill Reporter)
The MNI forms promising Open Science partnership with Takeda
4 December (Neuro News)
Stimulating neural pathways can influence how much you enjoy music (Alain Dagher)
3 December (CBC News)
Analysis: Psychiatrist researches pot use by teens (Gabriella Gobbi)
1 December (CTV News)
Celebrating Faculty of Medicine award winners (Srividya Iyer)
29 November (Med e-News)
Caroline Palmer receives 2017 NSERC CREATE program funding
27 November (McGill Reporter)
Three McGill professors awarded Senate of Canada 150 medals (Alan Evans, Andrea C. LeBlanc and Bernard J. Lapointe)
24 November (Med e-News)
Canadian Medical Schools Address the Opioid Crisis
24 November (Med e-News)
Gay Men's Unique Mental Health Issues Need Unique Solutions (Robert Whitley)
24 November (Huffington Post)
Now you like it, now you don't (Robert Zatorre)
22 November (Med e-News)
Brain stimulation can change how much we enjoy and value music (Ernest Mas Herrero)
20 November (Neuro News)
A microdose of LSD before going to work (Gabriella Gobbi)
20 November (La Presse)
No doubt: Study finds confident tone elicits trust (Xiaoming Jiang)
2 November (Med e-News)
Study Raises Questions About Brain Stimulation Boosting Memory (Matthew Krause)
1 November (The Scientist)
---
NEWS FROM ACROSS THE WORLD
(news in English, French and German)

Neuroblog.fr
L'actualité de la recherche sur le cerveau
Mind & Brain
Scientific American
Hirnforshung
Spiegel Online
 
---
The Oxford - Brain @McGill - ZNZ Partnership in the Neurosciences

Training opportunities for McGill students/postdoctoral fellows to visit ZNZ
Funding to support students travelling to McGill from ZNZ or Oxford:
Laszlo and Etelka Kollar Brain@McGill Graduate/Postdoctoral Travel Award
(Open Call)
---
Apply for the Zavalkoff Award (for McGill postdocs / graduate students to travel to Tel Aviv University):

Read more about the Zavalkoff Award  (Open Call)
---
Renewal of the Tripartite Partnership Agreement
McGill, Oxford and ZNZ renewed their tripartite partnership agreement at a ceremony at McGill on May 29th, 2017.  Read More.
---
"Healthy Brains for Healthy Lives" Launches New Postdoctoral Fellowships Competition
The program aims to attract, train and retain top post-doctoral researchers from across disciplines and around the world to participate in interdisciplinary and cross-sectoral research training opportunities related to brain and mental health research, knowledge translation/mobilization and innovation.

Value: CD$60,000 (+benefits) per year (max. $70,800) for 1 or 2 years (non-renewable).

Application Deadline: January 10, 2018
---
Congratulations to our new Kollar Award Recipients!
  
Sarah Hirsiger and Sana Suri are the news recipients of the Laszlo and Etelka Kollar Brain@McGill Graduate/ Postdoctoral Research Travel Award  Read More
---
We are pleased to announce the results of the selected applications for the latest call for Tripartite (Oxford–Brain
@

McGill–ZNZ) projects:

Oxford PI:  David Bennett
McGill PI: Reza Sharif
Title: The use of human pluripotent stem cell-derived nociceptors to identify the high-threshold mechanosensitive ion channel
Type: Pilot Project
ZNZ PIs: Susanne Walitza/Edna Grunblatt/Anna Werling
McGill PI:  Gustavo Turecki
Title: Epigenetics and ADHD: Family-based and case-control association studies of the dopamine and serotonin transporter gene
Type:  Pilot Project
ZNZ PIs: Fritjof Helmchen/Abhishek Banerjee
McGill PI: Jesper Sjostrom
Title: Dissecting functional Meso- and Microcircuits for Reversal Learning in Mouse Neocortex
Type: Pilot Project
Oxford PI: David Dupret
ZNZ PI: Benjamin Grewe
McGill PI: Adrien Peyrache
Title: Imaging long-term hippocampal dynamics of a memory trace
Type: Pilot Project
Oxford PIs:  Holly Bridge/Betina Ip/Charlotte Stagg
McGill PIs: Robert Hess/Kathy Mullen
Title: Multimodal investigation into neural markers of visual plasticity in amblyopia
Type: Pilot Project
---
The Branco Weiss Fellowship – Society in Science (Postdoc Program)
This fellowship awards young researchers around the world with a generous personal research grant, giving them the freedom to work on whatever topic they choose anywhere in the world, for up to five years.
Current call deadline: January 15, 2018
Read more
---
Congratulations to our 2017 Brain
@

McGill Undergraduate Essay Competition Winners!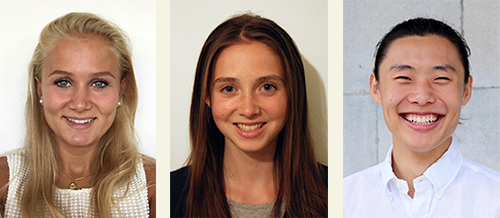 First prize: Tabea Haas Heger
Intrinsic Functional Connectivity of the Amygdala in Healthy and Epileptic Brains: A Resting-State FMRI Study
Second prize: Colleen Rollins
Investigating the impact of midlife obesity on Alzheimer's disease (AD) pathology in a mouse model of AD
Third prize: Simon Hua
Role of 14-3-3 Proteins in Myelination
---
Congratulations to our inaugural Brain
@

McGill Best PhD Thesis in Neuroscience Winner!
Corina Nagy, PhD, is the recipient for the 2017 Best PhD Thesis in Neuroscience.
---
Announcing the Zurich ZNZ Travel Fellowship

The Zurich Neuroscience Travel Fellowship (valued to a maximum CHF 6'000) provides support for graduate students and postdoctoral fellows from Brain@McGill or Oxford Neuroscience to travel to Zurich in order to undertake neuroscientific research to advance their scientific expertise.  Application Details