Meet the new Brain!
The Brain@McGill showcases the vast amount of neuroscience knowledge within the McGill University network.  It brings together renowned institutes such as the Neuro and the Douglas Mental Health University Institute, hundreds of very bright people, world-leading projects and the wisdom of almost a century of pioneering study in the neurosciences.  Read more about this exciting venture.
---
IN THE NEWS
Brigitte Kieffer receives the L'Oréal-UNESCO for Women in Science Award (Brigitte Kieffer)
4 March 2014 
Quebec concussion bill could die (Scott Delaney)
28 February 2014 (Global News)
Camillo Zacchia invites you to participate in the 5/30 Health and Wellness Challenge
21 February 2014 (The Douglas)
Esteemed McGill brain researcher shares $1M prize (Dr. Brenda Milner)
20 February 2014 (The Jerusalem Post)
An opportunity for brain gain (Nahum Sonenberg)
17 February 2014 (The Jerusalem Post)
Brenda Milner shares $1-million Dan David Prize
13 February 2014 (McGill Reporter)
Big brains join U of C — university lauds talent coup as it welcomes brain imaging researcher and microbiologist
11 February 2014 (Calgary Sun)
$ 9.8 million to the Douglas Institute for the creation of a centre specializing in research on depression and suicide
7 February 2014 (The Douglas)
Can vitamin C stop an aging brain? (William Osler)
6 February 2014 (The Windsor Star)
Canadians' growing use of anti-depressants is problematic
4 February 2014 (Montreal Gazette)
Metabolism And Brain Activity Linked (Derek Bowie)
3 February 2014 (Science 2.0)
Amnesiac Henry Molaison's brain undergoes digital post-mortem (Brenda Milner)
30 January 2014 (CBC News)
Brain of famous amnesiac "H.M." yields new insights into memory
29 January 2014 (LA Times)
Amnesiac Henry Molaison's brain undergoes digital post-mortem
29 January 2014 (CBC News)
Why We love Sad Music, And Other Musical Mysteries Explained (By Brain Science!)
23 January 2014 (NHPR)
Training your brain using neurofeedback
23 January 2014 (Bioscience Technology)
Are positive health impacts of spirituality simply a placebo effect? (Dr. Amir Raz)
23 January 2014 
Magnetoencephalography can be used to control and train specific targeted brain regions
22 January 2014 (News Medical)
Real-Time Neurofeedback Helps Retrain The Brain
22 January 2014 (Red Orbit)
Childhood brain cancer: an interview with Dr. Nada Jabado, Department of Pediatrics at McGill University
22 January 2014 (News Medical)
Training your brain using neurofeedback: A new brain-imaging technique for a true brain workout
20 January 2014 (The Neuro)
---
William Feindel (1918-2014)
15 January 2014 (McGill News)
The Montreal Neurological Institute and Hospital, McGill University and the McGill University Health Centre regret to announce the death of William Feindel, O.C., G.O.Q., MDCM, D. Phil., one of Canada's most distinguished neurosurgeons and The Neuro's third director.  Dr. Feindel passed away quietly at The Neuro on Sunday night following a brief illness.   Our deepest sympathies go out to Dr. Feindel's family.
---
BRAIN AWARENESS MONTREAL

Date: March 12th, 2014
Time: 6-9 pm
Place: McIntyre Medical Building Room 522
The symposium will hosts concussion researchers, clinicians, and professional athletes in a series of short lectures followed by a panel discussion and reception. 
Organizers: NUM, SAPEK, and SLICE (three student societies at McGill)
Read B@M's 2013 article on Brain Awareness Week >
---
THE TRIPARTITE PARTNERSHIP
Notice of Informational Conference Calls for Prospective Applicants to NIH BRAIN Initiative Funding Opportunity Announcements
On December 17, 2013, NIH released six Funding Opportunity Announcements (FOAs) for the inaugural set of projects under the BRAIN Initiative with an expected initial investment of $40M to be considered for NIH funding in Fiscal Year 2014.
---
Using Insight from Neuroscience to Improve Education
Closing date: May 6, 2014
Education and Neuroscience is a new funding initiative, launched by the Wellcome Trust and the Education Endowment Foundation in January 2014. This one-off scheme aims to develop, evaluate and communicate the impact of education interventions grounded in neuroscience research.
For more information on this £6 million funding scheme please click here >
Please note that:  "EEF funds are intended for schools and students in England. We are very open, however, to innovative ideas from overseas that are applicable to schools in England."
---
Integrated Program in Neuroscience and the Canada-Brazil Science without Borders Scholarship Program
Application: open time frame
---
The Brain@McGill Prize Winners for Neuroscience UNDERGRADUATE RESEARCH
Second place: Deregulation of the Nerve Growth Factor Pathway in Primary Cultures from Down Syndrome Fetal Cortex by Alison Kate Ower
Third place: High molecular weight dextran as a new, safe and reliable additive in cerebral microdialysis by Francesco Fiorini  
Fourth place: Exercise for your cerebellum by Sara El Jaouhari                            
The Brain@McGill has established this award to recognize the importance of the next generation of promising young neuroscientists in advancing our understanding of the brain.  find out more >
More in Arts & Culture
---
Artist Chuck Close:
My Life as a Rolling Neurological Clinic
Dialogues between Neuroscience and Society 2012. 
---
The age of insight : the quest to understand the unconscious in art, mind, and brain : from Vienna 1900 to the present
A brilliant book by Nobel Prize winner Eric R. Kandel
Recommended by Dr. Kathleen Cullen, The Age of Insight takes us to Vienna 1900, where leaders in science, medicine, and art began a revolution that changed forever how we think about the human mind—our conscious and unconscious thoughts and emotions—and how mind and brain relate to art. 
Building Brains
Monday, January 14
Recent recipient of the Friesen Prize in Health Science Research, Dr. Marc Tessier-Lavigne identified important mechanisms for the formation of the normal human brain, which ultimately opened new frontiers in the world of neuro-degeneration, and spinal chord injuries. He talks with Paul Kennedy. 
---
A Word to the Wise, Part 1 & 2
Friday, March 8
Times have changed. So has the study of wisdom. Philosophers, make room for the scientists! In this two-part series, Marilyn Powell talks to psychologists, sociologists,  neuroscientists - and the wise that dwell among us - about a very old topic. What they have discovered about the nature of wisdom and being wise will enlighten and surprise you. 
In Praise of Imperfection: My Life and Work
by Rita Levi-Montalcini
Levi-Montalcini's lifestory is a true inspiration in 'the beauty of imperfection' and persistance in the most difficult circumstances.  This combination brought Levi-Montalcini to be the fourth woman in history to receive the Nobel Prize in Medicine (1986).  
---
Today's neuroscience research demands interdisciplinary collaborations and intense networking between leading institutions.  Brain@McGill, in partnership with other internationally renowned neuroscience institutes, offers such a framework to promote and sustain innovative research projects and to tackle unmet medical needs through a unique reservoir of world-class expertise.
---
Imagination, Part 1 & 2
Wednesday, February 6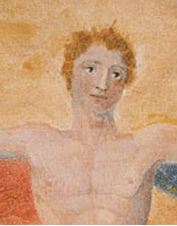 The poet William Blake claimed that the imagination is central to our perception and experience of reality. More than 200 years later, scientific research on the brain and creativity confirms the great poet's insight.  Listen on CBC Radio Ideas with Paul Kennedy
>