For News, please consult our Twitter channel: https://twitter.com/bme_mcgill
2017 November 1 - New Graduate Program Director. Professor W Robert J Funnell has been appointed BME Graduate Program Director and BBME  Graduate Program Associate Director.
---
2017 September 7 - Professor Maryam Tabrizian among nine McGill researchers named Fellows of the Royal Society of Canada
Today, the Royal Society of Canada (RSC) announced the induction of 89 new Fellows, nine of whom are McGill researchers and scholars. The new group of Fellows will be formally inducted into the RSC on November 24, in Winnipeg. Included among this cohort is Professor Maryam Tabrizian, who is the first member of McGill's Faculty of Dentistry to become an RSC Fellow. The RSC consists of over 2,000 Fellows selected by their peers for outstanding contributions to the natural and social sciences, arts and humanities. The RSC works to advise governments and organizations while recognizing academic excellence in Canada.
"Over the course of the past 20 years, the Faculty of Dentistry has seen an extraordinary explosion in the quality and quantity of its research," said Paul Allison, Dean of Dentistry. "Professor Tabrizian has contributed to this transformation by being an outstanding role model for us in promoting research and research training. Her election to the Royal Society of Canada is an extremely proud moment in the history of the Faculty of Dentistry, reflecting the excellence of both her and the Faculty's research."
More details on McGillReporter
---
2017 August 03 - New biomedical engineering certificate brings industry issues to science graduates
A new graduate certificate recognizes that many basic science degree holders go on to work in the applied sciences, and is offering a few tools to better navigate that transition. The Graduate Certificate in Translational Biomedical Engineering, which will be led by Dr. Ahmad Haidar, Assistant Professor in the Department of Biomedical Engineering at McGill University, and is currently being phased into the course calendar, will cover industry-relevant subjects for graduate students, particularly those looking to branch out into the medical devices field.
The Department knew that building a program from scratch would require a couple of years. So, instead it decided to bring in one core course at a time, and make them available to their current students. Once the three new core courses would be in place, so would the graduate certificate.
Those three courses are:
Patents in Biomedical Engineering, which helps students understand the patent system and intellectual property, with an emphasis on biomedical engineering issues;
Biomedical Clinical Trials – Medical Devices, which delves into the design, purpose and business motivations of the clinical trial; and
Biomedical Regulatory Affairs – Medical Devices, which lays out the various government requirements for medical devices.
The courses are rolling out one semester at a time, with Patents having begun this past January, Regulatory Affairs to be introduced this fall and Clinical Trials launching January 2018. Patent agent Pierre Nguyen and regulatory affairs consultant Danny Kroo have been hired for those first two courses, while the Department is in the process of recruiting a clinical trials professional for the January course.
The certificate will be aimed at graduate students who want to work in the field of medical devices, Master's and PhD students in various engineering disciplines who want to augment their training and people already working with the devices who want to further develop knowledge in those specific areas.
More details on Med e-News and promotional video
---
2017 May 29 - BME welcomes two new Assistant Professors - Dr. Christine Tardif and Dr. David Rudko - joint appointment with Department of Neurology and Neurosurgery.
---
2017 May 11 - Fifteen Canada Research Chairs valued at $12 million went to McGill faculty
Among McGill's newest CRCs are Dr. Ahmad Haidar, CRC in Artificial Pancreas Systems, CIHR, Tier 2 and Dr. Nicole Yee-Key Li-Jessen  (BME Associate Member), CRC in Personalized Medicine of Voice Disorders, CIHR, Tier 2.
More details in McGillReporter
---
2007 May 7 - Un nouveau souffle pour les grands prématurés
"They weigh a few hundred grams and hold in the palm of a hand. On the contrary, we managed to save these premature babies by just 24 weeks of pregnancy. But neonatologists sometimes feel that they are playing Russian roulette when it comes to withdrawing respiratory assistance from these very premature babies, a problem that Montreal researchers have decided to look into." Project APEX collaborated by Dr. Guilherme Mendes Sant'Anna, Montreal Children Hospital, Dr. Kearney's group, Department of Biomedical Engineering and Dr. Precup's group, School of Computer Science at McGill was featured in La Presse.
Full story (in French) in Lapresse.
---
2017 Feb 16 - Dr. David Juncker's project on aptamer-based enrichment system and capillary chip for low-abundance water contaminant detection to ensure aquaculture safety and quality, one of nine innovative projects backed by NSERC Strategic Partnership Grants, is funded in three years, worth $552,000
Aquaculture, the farming of fish, shellfish and aquatic plants in fresh or seawater, is a rapidly growing Canadian industry. There is a great need for highly sensitive, rapid and user-friendly field deployable monitoring tools for detection of trace amount of contaminants in natural water systems, as well as for tools to conduct water quality surveys, identify and assess source of point and non-point pollution, establish concentration limits and classify harvest areas based on the analysis. This project will develop a portable detection system combining an aptamer-based analyte enrichment mechanism, and a microfluidic chip for hands-off processing, integrated with a sensitive graphene-based sensor. The project will establish a novel analyte enrichment and detection technology that is capable of ultra-high sensitivity, reaching detection limit not achievable by current field deployable methods.
Read more on McGillReporter
---
2016 Nov 24 - McGill Service Awards
Through the Staff Recognition Program, each year we receive official McGill pins for the regular employees who have achieved milestones of 15, 20, 25, 30, 35, 40, 45 and 50 years of continuous service to the university. This year, we congratulate people for their milestone and thank them for their great contribution to the department and the university.
Congratulations!
Professor Satya Prakash - 20 years
Student Affairs Officer Pina Sorrini - 30 years
Professor Henrietta Galiana - 35 years
Professor Robert Kearney - 40 years
Associate Professor Robert Funnell - 40 years
---
2016 Nov 21 - Novel nanobiotherapeutic blood substitute with enhanced red blood cell functions compared to red blood cells
In a 2016 collaborative agreement between the governments of Canada and China, the Chinese Ministry of Science and Technology has finalized areas of collaboration including 5 life health science projects. Our ongoing research supported by the CIHR Cardiovascular Respiratory Institute/Canadian Blood Service partnership grant is one of these 5 projects.  This is the innovative research by Chang's group at McGill University on a novel soluble nanobiotherapeutic complex with enhancement of all 3 red blood cell functions. Potential health benefits include emergency on the spot transfusion in severe hemorrhagic shock since this has no blood group; the soluble complex can better perfuse partially obstructed blood vessels in stroke & heart attack; the lyophilized complex, unlike red blood cell, can be heat sterilized to inactivate infective agents in natural or man made contaminated donor blood risks; the lyophilized complex is also more stable with a storage time at room temperature of more than 100 days compared to 1 day for donor red blood cells. This also utilizes and conserves donor blood that is needed for many other important uses. Much more extensive and costly research is needed to move this towards clinical uses. The Blood Transfusion Institute of the Chinese Academy of Medical Sciences is our Chinese collaborator with extensive experience in the scale up of an earlier first generation blood substitutes. They will have their own research support from China in collaborate with our Canadian supported research so that we can together move this towards clinical use earlier. The result from this collaboration will be shared towards the design for future preclinical and clinical trials and the production of this in both countries for patient use.
More details from Prof. Chang's website
---
2016 Oct 7 - JDRF Canada awards $466,450 (USD) to Dr. Ahmad Haidar and his team at McGill University to improve the artificial pancreas system
JDRF and McGill University are pleased to announce research occurring to improve a platform designed to aid in glucose control for those living with type 1 diabetes. The artificial pancreas platform is a system of devices that closely mimics the glucose regulating function of a healthy pancreas. Dr. Ahmad Haidar was awarded $466,450 (USD) to study the effect of co-administering insulin with pramlintide (a hormone that helps regulate blood sugar) and its effect on improving the glycemic performance relative to the insulin-alone artificial pancreas.
You can read the full article at Med e-News
---
2016 Jun 8 - Particles that point to cancer - Dr. David Juncker's reasearch featured in McGill Mdicine Focus magazine
The first steps to better cancer treatment start with identifying the disease.
Over at the McGill University and Génome Québec Innovation Centre, Dr. David Juncker and his team are investigating cancer diagnostics and screening technologies in the Micro & Nano Bioengineering Lab.
One tool is a filtration technique to isolate cells that could be linked to cancer, based on size, but also based on molecular features. The initial work was done at the McGill Nanotools Microfab, a facility dedicated to developing micro- and nanotechnologies, says Juncker, a Canada Research Chair in Micro- and Nanobioengineering and Professor in Biomedical Engineering at McGill.
The microfabricated filters are engineered to catch circulating tumour cells, which could signal whether cancer has spread.
"The next step is to go to the clinic and try this setup with patient samples," Juncker says.
Juncker's lab is also developing microfluidics and microarrays, both of which are techniques using "lab-on-a chip" technologies that function like mini-laboratories, testing samples for particles that could point to cancer.
"What you need is to have technologies that are user-friendly and economically viable and also provide actionable information in the end," Juncker says. "There's still a big gap there."
The goal is to use biomarker signatures with the new technologies in diagnostics for cancer patients. Using blood samples and microarrays—chips with dots that measure proteins—Juncker and his team are looking to identify breast cancer biomarkers, which are molecules released by tumours. These molecules are signs that cancer is present in the body.
For the full story see the Medicine Focus magazine.
---
2016 May 31 - Congratulations to BME graduates - Spring 2016 Convocation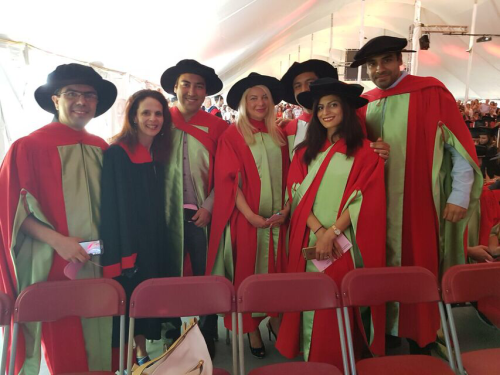 ---
2016 Apr 14 - BME welcomes Professor Ahmad Haidar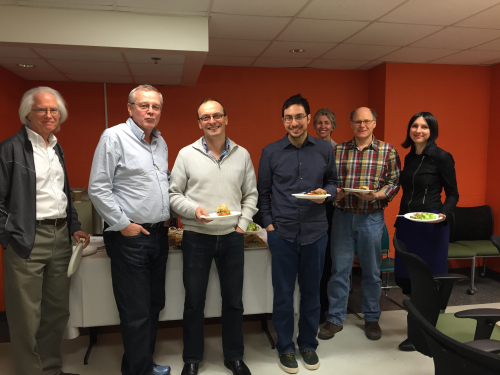 Lunch reception held on April 14 to welcome new BME recruit, Dr. Ahmad Haidar, to the position of Assistant Professor (Tenure-Track). Welcome Ahmad!
---
2016 Feb 18 - Professor David Juncker promotion to Full Professor
Congratulations to Prof. David Juncker upon his promotion to Full Professor. It is a well-deserved recognition!
Congratulations to Prof. David Juncker upon his promotion to Full Professor – Well deserved recognition!Professor Juncker earned his PhD from the University of Neuchâtel in Switzerland. He joined McGill in 2005. His research focus is on the miniaturization and integration in biology and medicine, which includes using micro- and nano-technology in the study of proteins, cells and tissues. He has developed a multipurpose fluidic probe, which can be used for making micro-arrays, manipulating single cells, and for the study of cell migration and diagnostics. He is an associate member of the Departments of Surgery, Medicine, Neurology and Neurosurgery, Bioengineering and Electrical and Computer Engineering.
Details in McGill Reporter
---
---
2015 Oct 31 - Professor Thomas M.S. Chang receives Chinese-Canadian Legend award
Known as the "father of artificial cells", Prof. Chang created the first artificial cell in the world in 1956, which brought forth many ground-breaking approaches in human health and other applications. Professor Emeritus in the departments of Physiology, Medicine and Biomedical Engineering and Director of the Artificial Cells and Organs Research Centre at McGill, to this day Prof. Chang continues his research and innovative work to better the future of humankind. He was awarded Officer of the Order of Canada and was twice nominated for the Nobel Prize. In 2011, Dr. Chang was voted the winner of the Greatest McGillian contest organized by the McGill Alumni Association for McGill's 190th anniversary.
For the full story see the the Live 2015 of the Med-eNews.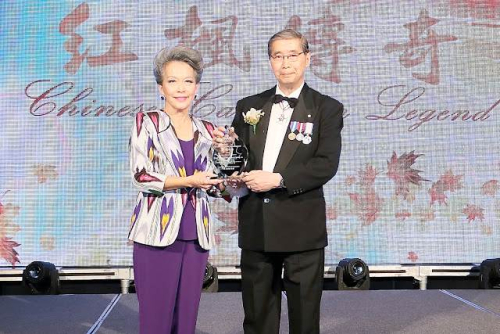 Chinese-Canadian Legend: Presented by the Honorable Dr. Vivienne Poy, Chancellor Emeritus of the University of Toronto
---
2015 Aug 28 - BME at the 37th Annual International Conference of the IEEE Engineering in Medicine and Biology Society in Milano, Italy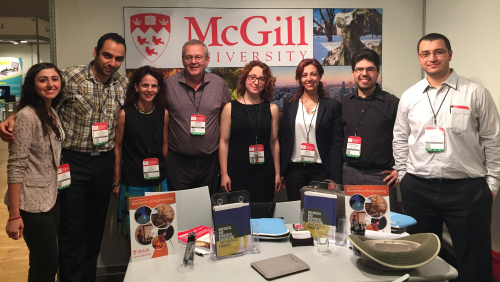 Standing at the booth are Student Affairs Officer Pina Sorrini (3rd from left), Dept. Chair Robert Kearney (4th from left), and some attending BME students.
The new program Biological and Biomedical Engineering was being promoted at the IEEE EMBC conference.
---
2014 Dec 18 - Chair re-appointed. Professor Robert Kearney has been reappointed as Interim Chair for an additional two years, effective Jan. 1, 2015.
Dr. Kearney has accepted this reappointment to provide some stability and continuity in this leadership role within the Department. The longer term also allows Dr. Kearney to continue his efforts in strengthening the relationship with Bioengineering with the ultimate goal of establishing a structure beneficial to both faculties and departments.
---
2014 Oct 29 - Pina Sorrini wins Principal's Award in the Managerial category
Photo: Rachel Schafts
"I wouldn't trade my job for anything. I love it! I love helping students in any way I can. Even if sometimes it's just as someone to listen to them when they need to talk." - Pina Sorrini, Student Affairs Officer in the Department of Biomedical Engineering.
For the full story see the the November 18, 2014 issue of the McGill Reporter
---