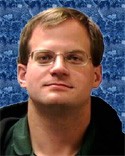 Contact
Department of Bioresource Engineering
Macdonald Campus, McGill University
Ste-Anne-de-Bellevue, Québec H9X 3V9

Tel.: 514-398-7967
mark [dot] lefsrud [at] mcgill [dot] ca (Dr. Lefsrud)
For more information on Biomass Production Lab
Interests
Dr. Lefsrud, an Associate Professor at McGill University leads the Biomass Production Laboratory.  His upbringing on a farm and work in the oil fields of Alberta, Canada combined with his B.Sc. and M.Sc. in Agricultural and Bioresource Engineering and a Ph.D. in Plant Physiology gives him a very strong background in the fields of agriculture, biology, and engineering.  His research program deals with the development of bioprocesses and improvements in plant growth environmental energy usage.
The laboratory is focused on three areas: 1) The development and improvement of new sources of biomass (food, fibre and/or fuel); 2) The improvement of energy efficiency of greenhouses and plant growth environments (light (LEDs) and heating systems); and 3) The development of a proteomic system for monitoring of microorganisms and plants. His overall research philosophy is a holistic one in which focus on individual facets of an issue leads to a solution to the problem as a whole.
Previous Work Experience
Oak Ridge National Laboratory, Oak Ridge, Tennessee. Researcher in proteomics, mass spectrometry and bacterial communities in acid mine drainage systems and biofuel fermentation communities.
ORBITEC, Madison, Wisconsin. Design and development of space flight hardware for f the International Space Station.
Computalog, Edmonton, Alberta, Canada. Field Engineer Well Logger.
Lefsrud Seed and Processor, Viking, Alberta, Canada.
Affiliations
Professional Engineer with APEGGA (Association of Profession Engineers Geologists and Geophysicist of Alberta)
ASHS (American Society of Horticultural Scientists)
ASABE/CSBE (American Society of Agricultural and Biological Engineers)
SE 303 Environment of Plant Structures, ASABE
Courses
BREE 314

Agri-Food Buildings

BREE 327

Bio-Environmental Engineering

BREE 520

Food, Fibre and Fuel Elements

BREE 530

Fermentation Engineering