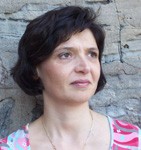 Contact
Freshman Advisor and Interim Freshman Program Director
Department of Bioresource Engineering
Macdonald Campus, McGill University
Ste-Anne-de-Bellevue, Québec H9X 3V9

Tel.: 514-398-7980
alice [dot] cherestes [at] mcgill [dot] ca (Dr. Cherestes)
Education
1998: Ph.D. Chemistry, City University of New York, New York. Dissertation Title: Ionic Dendrimers; Thesis Advisor: Dr. Robert Engel
1995: M.A. Chemistry, Queens College, City University of New York, New York.
1993: B.A. Chemistry, Queens College, City University of New York, New York
Professional and Teaching Experience
June 2004 – August 2007 Chair of the Science Department, Marianopolis College, Montreal, Quebec
August 1999 – August 2007 Faculty of Chemistry, Department of Science, Marianopolis College, Montreal, Quebec
March 1998 – April 1999 Postdoctoral Fellow, Institut Armand Frappier, Laval, Quebec
Professional Activities and Contributions
My main endeavors, in the past few years, have been the development and improvement of the science curriculum in the CEGEP setting as well as the alignment between high school and CEGEP courses. In light of the new ministerial science program recommendations and university entry requirements, adjustements were made in the content of the organic chemistry courses. While conforming to regulations was certainly a motivating factor for the restructuring of these courses and the corresponding laboratory sections, maximizing the acquisiton of knowledge by students through a more hands-on approach as well as a through a more stimulating, and cutting-edge curriculum remained the primary objective.
My doctoral and post-doctoral research was focused on Taxol chemistry and on ionic dendrimers. The chemical reactivity of several positions on taxane skeletons was studied in order to provide more desirable derivatives that could possibly be used for the development of new breast cancer drugs and for increasing the efficacy of existing drugs such as selective estrogen receptor modulators. Also, the conformational and structural activity relationship of taxol and other related taxanes was analyzed, in order to better understand their microtubule binding ability and their solubility.
My work with ionic dendrimers consisted of dendrimer synthesis and analysis. Ultmimately, several marketable uses were found for the various dendrimers produced: the ionic, neutral, soluble, nsoluble and chiral molecules obtained were promising ion exchange materials and antibacterial agents.
Other Interests and Activities
Reading; mixing of edible chemicals (a.k.a cooking and baking); classical music.
Courses
AECH 110

General Chemistry 1

AECH 111

General Chemistry 2

AGRI 195

Freshman Seminar 1

AGRI 196

Freshman Seminar 2

BREE 187

Freshman Seminar 1

BREE 188

Freshman Seminar 2

AGRI 295 course description not available

AGRI 296 course description not available

AEBI 122

Cell Biology

AGRI 120

Exobiospheres