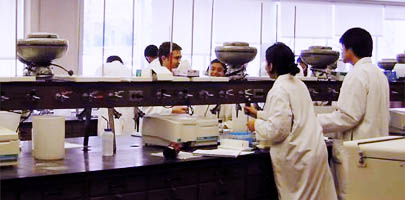 Sharing a laugh during a lab class
 
Can't get into a BIOC course?
If you are not a BIOC student and only if you REQUIRE a BIOC course, please send an email to christine [dot] laberge [at] mcgill [dot] ca (subject: Course%20Registration) (Christine Laberge), including your name and McGill ID number, and I will verify your records and a permit will be issued the same day for you to register.
PLEASE NOTE: You MUST have ALL prerequisites to take any BIOC course.
PLEASE NOTE: If BIOC311 is not a REQUIRED COURSE for your program, you will not be able to take this course as it is at capacity.
Bachelor degree programs
Our Major and Honours programs provide a sound background for students aiming for a professional career in biochemistry. The less specialized Liberal program allows students to select courses in other fields of interest. The Liberal program provides students with the opportunity to study the core of one science discipline along with a breadth component from another area of science or from many other disciplines (please check the Undergraduate Calendar, Faculty of Science, Liberal Programs, for greater detail).
Admissions
Undergraduate admission deadlines for September is March 1st for Cegep students and February 1st for Canadian high-school students. Find out more...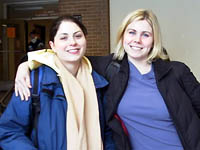 Studying hard, sure! But there's always time to be with friends.
Training for the future
Increasingly complex technology requires training in both chemistry and biology. As well, the combination of chemistry, molecular biology, enzymology and genetic engineering in our programs provides the essential background and training in biotechnology.
With this, our graduates can work in a variety of positions in industry and health. These range from R&D in the chemical and pharmaceutical industries, to testing and research in government and hospital laboratories, to management.
Many graduates take higher degrees in research and attain academic positions in universities and colleges.