Associate Members
gary [dot] brouhard [at] mcgill [dot] ca (Gary Brouhard)
Profile page
Gary Brouhard, Ph.D.
Associate Professor
Department of Biology
McGill University
1205 Dr. Penfield Ave.
Montreal, Quebec H3A 1B1

We offer a highly-regarded 45-credit graduate program leading to the M.Sc. degree that prepares our students for scientific careers in many areas of biochemistry and related sciences.
 Completing the M.Sc.
All M.Sc. students are required to complete 45 credits for their degree, including:
 
Our Seminar Series
All graduate students are required to attend all departmental seminars - Biochemistry, Goodman CC and Complex Traits. A minimum attendance at 70% of seminars is required to pass BIOC 696, receive fellowships and letters of recommendation.
In Biochemistry at McGill you will join research teams carrying out exciting, innovative science. The Department's 30 full time members are complemented by another 30 adjunct and associate members. They have made ground breaking discoveries, from identifying the gene that causes spina bifida to documenting complex processes goveringing the regulation of protein synthesis to tracking gene expression in breast cancer development. That's why the McGill Biochemistry program is known and respected around the globe.
What is biochemistry?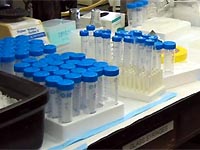 Biochemistry is the application of chemistry to the study of biological processes at the cellular and molecular level. It emerged as a distinct discipline around the beginning of the 20th century when scientists combined chemistry, physiology and biology to investigate the chemistry of living systems.
Professor
Department of Biochemistry
Tyrosine kinase epidermal growth factor receptor (EGFR) family
Pages