BGSS is a student-run organization that represents McGill's biochemistry graduate population. BGSS organizes a variety of social and academic events for biochemistry students and the general student body throughout the year.
The BGSS executive is elected each spring. It consists of the following positions:


President: The role of the president includes being the principal liaison between staff and students in academic matters, and to organize seasonal events for both graduate students and staff.
Vice-President: The vice-president assists the President in all areas.
Treasurer: The treasurer is responsible for keeping account of student finances, acts as financial liason for students with departmental accountant, and assists the President and Vice-President.
GAC representatives: These two representatives participate as student committee members for all reclassification examinations (Ph.D proposals).
PGSS representatives: The Post-Graduate Student Society representatives (2) are responsible for attending monthly meetings held at Thomson House. The PGSS comprises representatives from all departments offering post-graduate programs and is responsible for allocating funds for scholarships, travel awards and entertainment.
Graduate Faculty Reps: The graduate faculty representatives participate in seasonal meetings with the graduate faculty committee, which is involved in decision-making at the University level for academic questions specific to graduate students.
Yearly Events
Pizza and Sangria Election Party: This event is held in early spring at which time elections are held to fill the BGSS executive positions.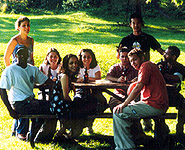 Annual Bar-B-Q Picnic: The annual summer blow-out is held outside at various locations on the island, as determined by the executive. Each year, about 100 people attend and are subjected to food, drink and fun activities for the low, low price of $7.
Meet and Greet Wine & Cheese: Each fall, with the arrival of new graduate students, the executive organizes a get-together to provide the opportunity for the department to meet the latest inductees. It is also a chance for the Departmental Chair to highlight important developments within the department at large.
Christmas Party: Another annual event held at Thomson House, during which staff and students enjoy drinks, dinner and entertainment. Entertainment features student vs. staff written and performed skits designed to make light of the other in the spirit of the season. Highlights are a special visit from Santa, a door decorating contest, and lots of stocking stuffers...