What is biochemistry?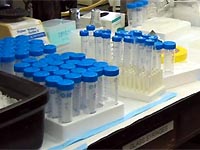 Biochemistry is the application of chemistry to the study of biological processes at the cellular and molecular level. It emerged as a distinct discipline around the beginning of the 20th century when scientists combined chemistry, physiology and biology to investigate the chemistry of living systems.
2007 marks one century of Biochemistry taught at McGill. In the year 1907, Dr Robert F. Ruttan was appointed the first Professor of Biochemistry!! This is certainly a reason to celebrate!
This Article is an abridged version entitled "A Sixty-Year Evolution of Biochemistry at McGill University", Scientia Canadensis, V. 27 (2003) pp. 27-84 published by Rose Johnstone, Professor Emeritus, McGill Gilman Cheney Chair in Biochemistry.
In The News: