Studying Diagnostic Reasoning in Medical Education
BioWorld
BioWorld is a computer-based learning environment that provides a realistic environment for students to learn about diseases through solving specific patient cases (Lajoie, Lavigne, Guerrera, & Munsie, 2001). BioWorld provides a hospital simulation where students learn diagnostic reasoning by visiting patients, interpreting patient symptoms, conducting diagnostic tests, and collecting appropriate information in the library. Solving a patient case in BioWorld not only consists of submitting the right diagnosis, but also requires the student to select and organize evidence that supports and justifies decisions made throughout the case resolution process.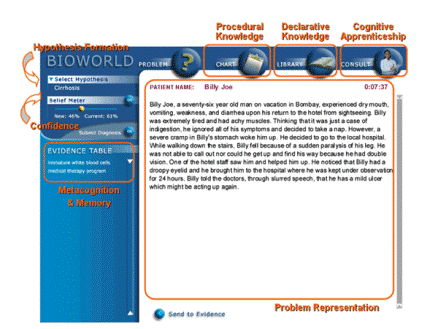 CaseBuilder
One key aspect of adapting BioWorld to a medical audience is to revise and construct cases at an appropriate level. In our attempts to create and develop valid cases in medical education, we have experimented with different methodologies and scenarios to structure case creation (Gauthier, Lajoie, Richard, & Wiseman,2007). The companion authoring tool, CaseBuider (Lajoie et al., 2001) was designed to allow both instructors and researchers to easily modify cases and also enable to explore instructional activities for case creation. A newly built web-based management interface allows instructors to manage student users, selectively release cases, and review dynamically-generated individual and class reports.
Related Publications
Lajoie, S. P. (2009). Developing professional expertise with a cognitive apprenticeship model: Examples from Avionics and Medicine. In K. A. Ericsson (Ed.), Development of professional expertise: Toward measurement of expert performance and design of optimal learning environments (pp.61-83). Cambridge: Cambridge University Press.
Lajoie, S. P. (2007). Developing computer based learning environments based on complex performance models. In B. Shuart, W. Spaulding and J. Poland (Eds.), Nebraska Symposium on Motivation. Modeling complex systems: Vol. 52 (pp. 123-144). Lincoln, NB: University of Nebraska Press.
Lajoie, S. P. & Azevedo, R. (2006). Teaching and learning in technology-rich environments. In P. A. Alexander & P. H. Winne (Eds.), Handbook of educational psychology (2nd ed.) (pp. 803-821). Mahwah, NJ: Erlbaum.
Lajoie, S. P. (2007). Aligning theories with technology innovations in education. British Journal of Educational Psychology - Monograph Series II (5), Learning through digital technologies, 27-38.
Lajoie, S. P., Faremo, S., Wiseman, J. & Gauthier, G (2006). Promoting self-regulation in medical students through the use of technology. Technology Instruction Cognition and Computing, 3 (1-2), 81-87.
Personnel
Samuel Mamane, Research Assistant (2010 - present)
Geneviève Gauthier, Project Management (2003 - present)
Solange Richard, Design and Programming (10/2003 - present)
Dr. Jeffrey Wiseman, Content Development (2001 - present)
Laura Naismith, Research Assistant (2008 - present)
John Ranellucci, Research Assistant (2008 - present)
Geneviève Chaput, Content Development (2008 - present)
Patricia Weston, Research Assistant (2004-2008)
Jessica Mackenzie-Feder, Medical Student (8/2006 - 2007)
Catherine Dickson, Medical Student (9/2003 - 2004)
Samara Chitayat, Medical Student (9/2003 - 2004)
Related Research Project