On this page...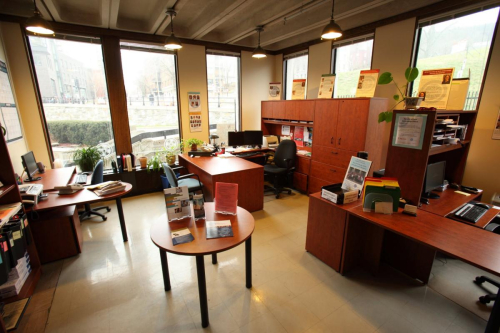 About the Faculty of Arts Internship Program
Arts Internships allow students to obtain practical experience in their field prior to graduation. Students who pursue approved internships may also gain up to 3 credits towards their degree upon the completion of a major topical paper. Arts internships require a minimum of 150 hours of work with an approved host institution or organization and are generally 8-12 weeks in duration. Upon completion of the internship, the student who wishes to gain academic credit must submit a major topical paper that discusses an aspect of their internship from an academic perspective.
The vast majority of departments and programs in the faculty offer an Internship Course. These courses are only open to U2 and U3 students in good standing who ordinarily have completed 30 credits of a 90 credit program or 45 credits of a 96-120 credit program. A minimum CGPA of 2.7 and permission from the Departmental Internship Advisor are required. Please note that some departments have additional requirements and these courses may not fulfill program requirements for seminar or 400-level courses.
For further information regarding course requirements, please visit your respective department's internship page by clicking here.
---
About the Faculty of Arts Internship Office
The Faculty of Arts Internship Office assists undergraduate and graduate students who wish to pursue short-term internship opportunities (3 months) before completing their studies. All returning students in the Faculty of Arts are welcome to visit our office and meet with an advisor who can help them identify internships suited to their educational and career objectives. Please note that the Arts Internship Office's mandate is to advise returning students.
The Internship Office assists students who wish to find their own internships. It also endeavors to build long-term partnerships with organizations in Canada and abroad in order to establish unique internship opportunities for Arts students. These positions are advertised on campus throughout the year and on our listserv and website. Our website also provides students with access to internship postings and a database of over 600 host organizations with preexisting internship programs. To view our listing of internship opportunities, please click here.
While the Internship Office provides assistance to students and advice on applications, CVs, cover letters and funding, students are required to research and secure their own internship opportunities. It is the student's responsibility to seek out an internship that is best suited to their particular needs.
Graduating students interested in short-term and long-term internships should consult McGill's Career Planning Service (CaPS) for advice relevant to their particular needs. For more information, go to the CaPS website by clicking here.
Please note that the AIO offers advising to Arts students to assist them in understanding and pursuing the internship options available to them. Advising appointments can be made for the following times:

Monday, Tuesday and Thursday from 2:00pm to 4:30pm.
Drop-in hours are on Wednesday from 2:00pm to 4:30pm
To book an appointment, contact the AIO at the contacts listed below.
Contact information:
Faculty of Arts Internship Manager
Anne Turner
Leacock Building rm 309
Tel: (514) 398-2916
Fax: (514) 398-8049
anne [dot] turner [at] mcgill [dot] ca (Email)
Internship Coordinator
Leacock Building rm 307
Tel: (514) 398-3467
Fax: (514) 398-8049
aio [at] mcgill [dot] ca (Arts Internship Office Email)
---
About the Faculty of Arts Internship Website
The Faculty of Arts Internship Office developed this website to serve as a resource for students exploring internship opportunities in their field of interest. Each participating department has an individual web page that provides details relating to internship courses and the criteria for earning academic credits.