Talk-Back Series: Network with Former Interns!
On November 4th, 2015, the Arts Internship Program Alumni Network was pleased to host a network cocktail. Previous interns from the Program were present to give advice and speak about their experiences post-graduation. These were previous arts students now in the banking sector, in law school, working for a tech firm, and for the govenerment.
The network cocktail was held to support the Seeds of Change Arts Internship Office Campaign.
Thomas D'Arcy Williams
Thomas graduated from McGill University in International Development and Political Science. In 2015 he interned at the Clinton Global Initiative. D'Arcy is co-founder and assistant director at Heart City Apparel. He is currently an intern for External Relations and Communications at Population Services International.
Photo and video credits: Laura Di Maio
Antoine-Samuel Alavo, internship coordinator for the Arts Internship Office, presents the speakers panel.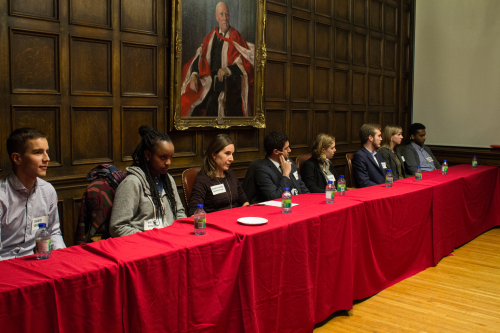 Speakers panel (from left to right): David Searle, Melissa Fundira, Sarah Berger Richardson, Alex Shadeed, Julia Skrak, Stephane Stril, Kaitlyn Bowman, Beement Alemayehu.
Panel speaker Melanie Ann Smithman giving advice to a student during the networking session of the evening.
Panel speaker Melissa Fundira giving advice to a student.
---
From Internship to Career: Art History Students Entering the Workplace
On February 21st, 2013, the Arts Internship Program Alumni Network was pleased to welcome a group of museum industry professionals, academics and students to McGill to participate in a panel moderated by Prof. Mary Hunter, Assistant Professor & Undergraduate Director at the Department of Art History and Communications Studies. The topic was "From Internship to Career: Art History Students Entering the Workplace". The panelists were:
Prof. John M. Fossey, Curator of Archaelogy, Montreal Museum of Fine Arts; Professor Emeritus, Department of History and Classical Studies
Lesley Johnstone, Curator, Musée d'art contemporaine de Montréal
Dr. Kathryn Muller, Executive Director, McCord Museum Foundation
Gwendolyn Owens, Liaison Officer, Office of the Associate Provost
Laura Di Maio, MA University of Bristol, BA McGill ('09), Arts Internship Program alumnus
We were very pleased with the great turnout and enthusiasm from students, and would like to thank everyone who came to listen, ask questions and meet the panel. The panel was followed by a reception where students had the opportunity to ask questions directly of the panelists. A big thank you to our panelists for their participation and support. If you attended or participated in the event and would like to provide your feedback, please click here.