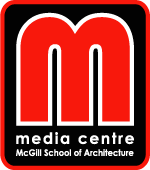 The Media Centre is located in the School of Architecture, Room G12 of the Macdonald-Harrington building.
Contact information
Media coordinator: juan [dot] osorio [at] mcgill [dot] ca (Juan Osorio)
Telephone number: 514-398-5660
---
Facilities, resources & equipment
Please note: Media Centre facilities, resources and equipment are available exclusively to McGill Architecture students, faculty and staff.
 
Photography
Black and White traditional Darkroom, Photography Studio with backdrops and light system, as well as digital cameras and tripods are available for use.
 
Scanning facilities
Nikon Coolscan 5000 ED Scanner for negative and positive slide scanning. There is also a flatbed scanner (11x17 scan surface) available for use. The Microtek ScanMaker 1000XL scans surfaces up to 11x17" and has a transparency adapter (for film, slides and other transparent materials).
Video cameras
Sony digital video cameras are available to faculty, staff and students for special projects and thesis work. We have two high definition hard drive cameras (30GB) as well as one DV camera which records on DV-tapes. The video centre is popular with Masters students who often use video in their final thesis presentations. To view examples of student projects go to the Course websites section of the architecture website.
Printing
Plotter printer for large format printing up to 42 inches wide.
Audio/Video extras
19 inch flat screens for video display, Wireless microphone systems, Portable console mixer, Portable amplified audio speaker, Roku machines and vintage equipment for analog display.
For more information please contact the Media Center at 514-398-5660.