Professors: Ricardo L. Castro, David Covo, and Nik Luka
Place: Charlottetown, Prince Edward Island
Dates: Thursday, August 23 to Friday, August 31, 2007
Calendar description: An eight-day supervised field trip in the late summer to sketch places or things having specific visual characteristics. Students are required to include Sketching School 1 (ARCH 324) in the B.Sc.(Arch.) and Sketching School 2 (ARCH 680) in the M.Arch. (Professional) program.
Accommodation
A wide range of hotels, motels and inns are available and students are expected to arrange their own accommodation. The Google search engine will provide you with a full list of Charlottetown websites of inns, hotels, motels, B&B, chalet rentals, and campgrounds.
The University of Prince Edward Island, on the Charlottetown campus, has overnight rooms and two-bedroom apartments available during the summer holidays (May to August 31). Address: UPEI Conference Services, 550 University Avenue. Telephone: (902) 566-0486.
A printed set of the Charlottetown websites will be available, for viewing only, on the front counter, Room 201.
PLEASE NOTE: CHARLOTTETOWN IS A VERY POPULAR HOLIDAY DESTINATION. PLEASE RESERVE EARLY!
Transportation
A variety of travel choices are available to students. The School has looked into the most economical way to travel, and it is by Via Rail, from Montreal to Moncton, NB. The telephone number is (514) 989-2626. The cost for a student for a round trip economy/comfort ticket is approx. $303.11, including taxes. A discount may be available under certain conditions; a student must have an ISIC Card which can be obtained from Via Rail or Travel Cuts Voyage Campus, McGill – cost approx. $16; proof of registration is required, i.e. receipt of tuition fee payment, or confirmation letter from McGill University's Registrar's Office. In addition, it may be possible to book a group ticket if there is a group of 21 students interested in taking the train together; a further reduction to approximately $234.74 may be possible. Please contact Elizabeth from House of Travel-Globalliance by July 3 for further assistance. Telephone: (514) 481-7277, ext. 2227.
The train departs from Montreal on August 22, at 6:30 p.m., and will arrive in Moncton the following day at 11:45 a.m. Acadian Lines will provide bus transportation from Moncton to Charlottetown, leaving at 1:45 p.m. and arriving at 4:50 p.m.
Returning from Charlottetown to Montreal: Acadian Lines departs Charlottetown on Friday, August 31, at 2:00 p.m. and will arrive in Moncton at 5:00 p.m. The train departs from the Moncton Via Rail train station on Friday, August 31 at 5:20 p.m. and arrives in Montreal the following day at 8:15 a.m.
Air Canada and WestJet are having a seat sale. Please visit their websites: WestJet and Air Canada.
Van rental may also be quite economical for groups of 6-7 people.
NOTE: Travel is very popular at this time of year, especially during the Labour Day weekend. Please book your tickets as quickly as possible.
Health Insurance
Please remember to bring your Quebec Medicare Card, and/or proof of any other supplementary health insurance you may have. If you do not have supplementary health insurance covering you outside of Quebec, please arrange to purchase a temporary health insurance plan.
Required Equipment
Water colours, water colour paper, brushes, pencils, pen and ink, conte crayon, sketch books and drawing paper of varying sizes and types. Sketch pads, sheet material and watercolour blocks should range from 9" x 12" to 18" x 24".
If you haven't yet covered watercolour in Freehand Drawing, and need to buy a set of watercolours, you could consider a set with 'cakes', or you could purchase separate tubes of pigment. If you decide to buy the separate tubes, you will need to develop a versatile palette. Below is one suggestion for a 12-colour palette - please note that the palette does NOT include black or white, which are unnecessary and even undesirable.
Reds: Alizarin Crimson, Indian Red
Blues: French Ultramarine, Cobalt Blue
Yellows (difficult): Cadmium Yellow Pale, Yellow Ochre
Greens: Hooker's Green Dark, Olive Green
Browns: Burnt Umber, Burnt Sienna, Raw Umber
Other: Payne's Grey
The first experiments in watercolour will be based only on French Ultramarine and Burnt Umber, which produce a surprising range of values and colours.
As for sketchbooks and pads, we recommend, in addition to the list above, a small pocket notebook or sketchpad for thumbnail sketches and experiments with wash and watercolour. A few good sable or synthetic brushes will also be required: a small and medium round, with a medium to large (1/2 inch or 3/4 inch) flat are always useful.
Bicycles have always been valuable additions to the standard "kit" and are highly recommended. We have also found that a folding camp stool or small foam pad can make 2 to 3 hours on the cold ground much more endurable.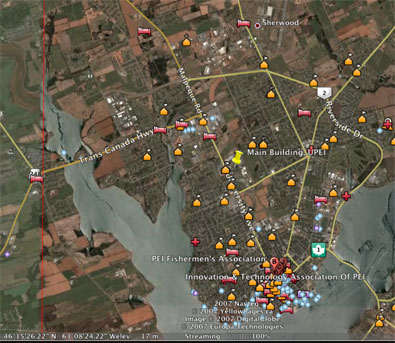 Main Building, UPEI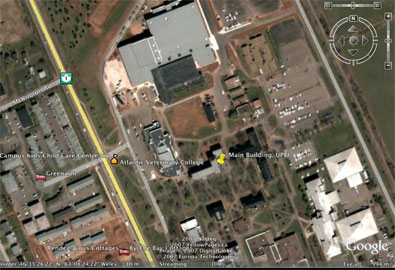 Main Building, UPEI
Schedule and Meeting Format
The emphasis is on field sketching as opposed to studio work, so students draw outside every day, working individually and in small groups, and under the supervision of the instructors for the first four mornings of the course.
There will be three morning workshops for Sketching School 1 (Sketching School 2 is welcome to attend). The first will take place on Friday morning, August 24, at Peake's Wharf (bottom of Great George Street).
Every second evening, the group will meet in Room 130 of the Main Building of the University of PEI (please see plan below). A minimum of 5 evening meetings/reviews are scheduled:
Meeting 1: Thursday, August 23, 1800 hrs (this will be a short meeting for general orientation, since some students will still be in transit)
Meeting 2: Friday, August 24 (the first day's work will be reviewed at this meeting; all students will be expected to attend)
Meeting 3: Sunday, August 26
Meeting 4: Tuesday, August 28
Meeting 5: Thursday, August 30
These 90-minute sessions provide a forum not only for a review of the work but also for informal discussions on the intentions of the course and on the process by which images and memories are formed.
Room 130 in the Main Building of UPEI 
Evaluation
During the course, students are expected to explore both townscape and landscape and to make sketches that describe what they find. Final evaluation is based on a portfolio of at least twenty (20) pieces, the majority of which must be substantially worked. All portfolios must be left in the freehand drawing room (one pile for Sketching School 1 and another for Sketching School 2) by Wednesday 5 September 2007, in Room 508.
Each student is required to attend ARCH 324 Sketching School 1 during the B.Sc.(Arch.) program, and ARCH 680 Sketching School 2 during the M.Arch. (Professional) program. Registration for ARCH 324 is possible up to August 1, 2007, via MINERVA – Summer 2007 term. Registration for ARCH 680 is possible up to September 5, 2007, via MINERVA – Fall 2007 term. If registration (including withdrawals) is problematic, please contact Mary Lanni-Campoli at (514) 398-6702, before the commencement of Sketching School.