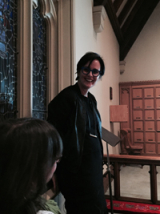 Prof. Annmarie Adams addresses the St. James Literary Society, 22 March 2016 (Peter Gossage)William C. Macdonald Professor
BA (McG.), MArch, PhD (UC Berkeley)
Tel: (514) 398-6706
annmarie [dot] adams [at] mcgill [dot] ca (Email)
On sabbatical leave: 1 September 2015 to 31 August 2016
Courses
ARCH 355 - Architectural History 4 (Winter 2015) - Syllabus
ARCH 627 - Research Methods for Arch (Fall 2016) -

Syllabus (tentative)
Major research interests
the history of hospital architecture
longterm care institutions
material culture
cultural landscape studies
vernacular architecture
gender, sexuality and space
Recent Publications
"Canadian hospital architecture: how we got here," Canadian Medical Association Journal (January 2016)

"Architecture that Breathes," Harvard Design Magazine 40 (S/S 2015), 14-19
Recent media
Peter Sealy, "The Hospital, Future and Past," Canadian Architect, 9 February 2016
Barbara Sibbald, "Medicine by design," Canadian Medical Association Journal (CMAJ), Barbara Sibbald, 5 October 2015
Papers currently under review
"Home and/or Hospital: The Architectures of End-of-life Care"
"Making himself at home: Cormier, Trudeau, and the Architecture of Domestic Masculinity" (with Cameron Macdonell)
Publications
Dr. Annmarie Adams is William C. Macdonald Professor at the School of Architecture, McGill University, Montreal. She is the author of Architecture in the Family Way: Doctors, Houses, and Women, 1870-1900 (McGill-Queens University Press, 1996), Medicine by Design:  The Architect and the Modern Hospital, 1893-1943 (University of Minnesota Press, 2008) and co-author of Designing Women: Gender and the Architectural Profession (University of Toronto Press, 2000).
Focusing on the cultural landscapes of houses and hospitals, she is particularly interested in the intersections of architecture and medicine.  She is currently working on a spatial biography of physician Maude Abbott, an overview of surgical environments, and a study of Wilder Penfield's architectural aspirations.
Her research has garnered numerous awards, including the Jason Hannah Medal from the Royal Society of Canada, a CIHR Health Career Award, and a YWCA Woman of Distinction prize.  She is a Mentor in the University of Toronto's CIHR-training program, Heath Care Technology and Place (HCTP) and has held research funds from CIHR, the Hannah Institute for the History of Medicine, SSHRC, Heritage Canada, and the Australian Research Council.  She is a board member of the Vernacular Architecture Forum and Winterthur Portfolio. At McGill University she is involved in a project to revive the university's medical museum and is a devotee of the Osler Library.
Adams' current post-professional Masters and PhD students are working on a range of topics regarding the social and cultural power of architecture:  children's playgrounds, architecture for mental health, modernist dollhouses, women in German bunkers, Montreal's bridges, the public lives of women artists, demolition in Montreal, and new housing for Nunavut.
Reflections on the process of writing:  The McGill Writing Centre.