Adjunct Professor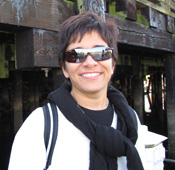 Ph.D, Senior Policy Manager
Sustainable Development Division
Environment & Renewable Resources Directorate
Natural Resources and Environment Branch
Indian and Northern Affairs Canada
Tel.: 514-426-2653
Fax: 514-426-8758
                                                           FerraraN [at] ainc-inac.gc.ca (Email)
Research Interests
Aboriginal issues, health, healing, the nature of self and community; Aboriginal, Métis, First Nations, Inuit, and northerners' government policies and legislation.
Biography
Currently, Dr. Ferrara is a Senior Policy Manager in the Sustainable Development Division at Indian and Northern Affairs Canada. Dr. Ferrara has been working for the Government of Canada since 2003. Her first government position was at INAC and it involved managing the Director General's office in the social development policy and programs' branch.
As a medical anthropologist, she remains on Faculty at McGill University as Adjunct Professor in the Department of Anthropology, where on her spare time supervises graduate and undergraduate students.
Before entering the Government, Dr. Ferrara worked for 16 years as an art therapist, specializing in cross-cultural psychotherapy with Aboriginal peoples in Quebec and Ontario. Her education includes a Master of Arts in Art Therapy, a Master of Science in Transcultural Psychiatry, and a Doctorate in Medical Anthropology.
Along with the publication of several journal articles and chapters in various books in North America and in Europe, Dr. Ferrara has published two books on her work with the Crees of Northern Quebec; the first entitled, Emotional Expression among Cree Indians, and the second, Healing through Art. She is also an artist and one of her sculptures is permanently placed at her former high school in Montreal.
Representative Publications
Emotional Expression among Cree Indians: The Role of Pictorial Representations in the Assessment of Psychological Mindedness, Nadia Ferrara, Philadelphia, Jessica Kingsley Publishers Ltd., 1999.
Healing through Art: Ritualized Space and Cree Identity, Nadia Ferrara, McGill-Queen's Native and Northern Series, Montreal, McGill-Queens University Press, 2004.
The Quebec Cree woman, in Beyond the Atlantic: Women's Roles in Canadian Societies and American Societies, V.G. Lerda and R. Maccarini (eds.), Milan, Selene Edizioni, 2005, pp. 279.
The Political Aspects of Emotion and Psychotherapy among the Cree, co-authored with Guy Lanoue, Thule no. 18/19, 2005, Centro Studi Americanistici "Circolo Amerindiano."