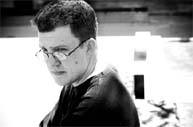 Canada Research Chair in Technology & Citizenship
Associate Professor
B.A., M.A. (Simon Fraser), Ph.D. (Toronto)
Darin Barney's research and publications website.
Darin Barney is a native of Vancouver, Canada, and studied at Simon Fraser University and the University of Toronto, where he trained in political theory and received a Ph.D. in 1999. In 2002, he was the Hixon-Riggs Visiting Professor of Science, Technology and Society at Harvey Mudd College in Claremont, California, and he has also taught at the University of Ottawa, the University of New Brunswick at Saint John, the University of Toronto at Scarborough, McMaster University, and Simon Fraser University. His research interests focus on the philosophy of technology, media and communication theory, and media and democracy. His courses emphasize philosophic responses to the ontological, political and ethical dimensions of technological society, and the debates arising from these responses.
Barney is the author of Communication Technology: The Canadian Democratic Audit (UBC Press: 2005); The Network Society (Polity Press: 2004; second printing 2006); and Prometheus Wired: The Hope for Democracy in the Age of Network Technology (UBC/Chicago/UNSW 2000) which was awarded the 2001 Award for Social and Ethical Relevance in Communication Research by the McGannon Center for Communication Research at Fordham University, selected as an Outstanding Title in political theory for 2001 by the American Library Association's Choice Reviews and a Finalist for the 2002 Harold Adams Innis book prize. He is co-editor with Andrew Feenberg of Community in the Digital Age: Philosophy and Practice (Rowman and Littlefield: 2004) and recipient in 2003 of the inaugural Social Sciences and Humanities Research Council of Canada's Aurora Prize for outstanding contribution to Canadian intellectual life by a new researcher.
In 2004, Barney was selected as one of fifteen "Leaders of Tomorrow" by the Partnership Group for Science and Engineering. From 2000-2005, he served on the Advisory Council of the Law Commission of Canada and he is currently on the Board of Directors of CKUT Radio McGill.