Fall 2016
*BASC 201 (15793) Arts and Science Integrative Topics (3 credits) Prof. Gabriella Coleman, T, TH, 1435-1525, ENGTR 0100 (in addition, 5 conferences are scheduled)
This course introduces students to a range of issues concerning hacking, openness, and anonymity in science and technology though the angle of controversies. The class takes a broad view of the meanings of hacking, openness, and anonymity and includes, among other topics: the rise of the ethic of openness in science, debates over access and intellectual property law, body modification and disability, the role of new technologies in expanding the scope of state surveillance as well as opening up new possibilities for exposing state secrecy.

This class uses the angle of controversy to introduce students to various academic and popular approaches to the social scientific and humanistic study of science and technology. The class draws on classic academic works in diverse fields, such as the history and philosophy of science, anthropology, and bio­ethics, while also integrating a broad base of engaging and accessible material (editorials, national policies on science, legal regulations, and scientific controversies to name just a number examples) that educate as well as evoke critique and transformation of the complex contemporary practices, methods, and politics of science and technology.
ARTH 204 (21917) Introduction to Medieval Art and Architecture (3 credits) Prof. Cecily Hilsdale, M, W, 1435-1555, Arts W-215
ARTH 205 (20536) Introduction to Modern Art (3 credits) Prof. Mary Hunter, T, Th, 1005-1125, Arts W-215
From the outset, this course approaches the history of modernism and modernity through a variety of theoretical lenses and methodological approaches.  Following a chronological timeline, we will consider some of the key modernist movements and debates through an examination of artworks and visual objects produced from 1850 to the present. We will consider various definitions and approaches to "modernity" and "modernism" by reading texts from both primary and secondary sources, including works by artists, critics, historians and theorists. By focusing on the social and historical contexts in which artworks and art histories were made, we will explore how meaning is produced. In particularly, we will examine the politics of representations by discussing the ways in which sex, class, race and gender are inscribed in artworks, art historical narratives and exhibition practices.  We will also draw connections between contemporary art practices and the themes and debates address in this class.
ARTH 207 (20537) Introduction to Early Modern Art 1400-1700 (3 credits) Prof. Angela Vanhaelen, T, Th, 0835-0955, Arts W-215
The period from 1400 to 1700 saw the emergence of a number of new social functions for art. This course will explore the role of visual culture in the formation of identities across various social spheres in early modern Europe. The functions of selected works will be analysed in relation to civic identity, religious controversies, the rise of absolutism, capitalism and colonialism, and the spread of new visual forms of knowledge about the self and the world.

Midterm Exam: 25% (Tues Oct. 20, in class)
Research Assignment: 35% (2 parts: Nov. 3 and Nov. 17)
Final Exam: 35%  (TBA, during final exam period)
Participation: 5%
ARTH 215 (22469) / EAST 215 (22154) Introduction to East Asian Art (3 credits) Prof. TBA, W, F, 1305-1425, (Wed=Arts W-215, Fri=STBIO N2/2)
ARTH 226 (21916) Introduction to Eighteenth Century Art and Architecture (3 credits) Prof. TBA, T, Th, 1435-1555, Arts W-215
ARTH 315 (19245) / CANS 315 (19271) Indigenous Art and Culture (3 credits) Prof. TBA, W, 0835-1125, Arts W-215
ARTH 338 (21920) Modern Art and Theory: WWI-WWII (3 credits) Prof. TBA, T, Th, F, 1235-1325, Arts W-215
ARTH 354 (18637)/COMS 354 (21918) Selected Topics in Art History 2 (3 credits) Prof. Will Straw, M, 0835-1125, Arts W-215
ARTH 400 (6241) / 401 (6242) Selected Methods in Art History / Honours Research Paper (3 credits) Prof. TBA, F, 1035-1325, Arts W-220
This dual course combines workshops on various topics of relevance to career development and post-graduate activities with a traditional seminar on a selected topic.
ARTH 420 (CRN 19923) Selected Topics in Art & Architecture 1: "Materiality in Contemporary Art" (3 credits) Prof. Christine Ross, M, 1435-1725, W-220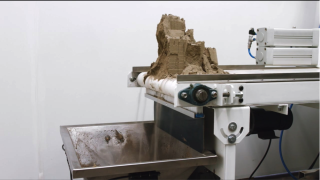 Michel de Broin, Castles Made of Sand (2015-2016) 500 x 160 x 200 cm, Conveyors, pneumatic, stainless mold, tide clock, automation controls, sensors. In the past two decades, artistic practices have become particularly invested in the exploration of materiality, new materialism and object-oriented speculative realism. This development has become palpable in the field of art, art history and related disciplines where new approaches and methodologies have been elaborated to "follow" the material. Neither a medium nor a technology, neither an object nor a thing nor simply a cluster of physical features — although certainly a bit of all of these —, materiality is best approached dynamically, as a variety of material substances "that are always subject to change, be it through handling, interaction with their surroundings, or the dynamic life of their chemical reactions." (Petra Lange-Berndt, Materiality, 2015:12). Questioning art history's traditional privileging of form over matter, mind over body and design over material, the inquiry into an artwork's materiality raises questions about agency (how does one account for the agency of materials?); the gestures involved in making art, the potentiality of these gestures and the power relations of such processes; labor; tools of production; cultural techniques; procurement; reproduction; trade; value; the ways in which materials make sense culturally and transculturally; the precariousness, sustainability, memory and vitality of materials; mediality and mediation; perception and affectivity as they emerge from human-nonhuman encounters; spatial politics; and temporality. Why this increased attention to materiality? How do artists, art historians, perceivers and participants experience and make sense of the material substances of aesthetic practices and artworks? How do artists negotiate matter in the process of making artworks? How do they infuse materials with ritual, symbolic, social and political significance?

​Materiality in Contemporary Art raises these questions to better understand the "materiality" shift in contemporary art and art history. Expanding from one of the main insights of material culture — the requirement to elucidate how "persons make and use things and things make persons" (Tilley et al., The Handbook of Material Culture, 2006:4) — but expanding the objects of material culture to include any natural and manufactured substance used and manipulated by artists, the seminar explores different research axis to follow the material in the making and reception of contemporary art, including: materiality as a critique of anthropocentrism; the agency of art; art history's "fear of materiality" despite the material turn; the "thingness" of art; the animist exploration of objects; artworks that tell the history of (bio)materials; the gesture of art-making; new materialist relationalities versus speculative realism and object-oriented ontologies; art and the Anthropocene. Some of the artists whose work will be investigated as pivotal players of materiality include: Pierre Huygue, Sarah Sze, Mark Lewis, Ann Hamilton, Jimmie Durham, Peter Fischli & David Weiss, Bridgit Polk, Amie Siegel, David Hammons, Hito Seyerl, Teresa Margolles, Michel de Broin, Janine Antoni, Mierle Laderman Ukeles, Kara Walker, and Ursula Biemann. The seminar unfolds as a series of discussions on scheduled readings. The reading list includes writings by Daniel Milller, Alfred Gell, Vilém Flusser, Lucy Lippard, Bill Brown, Georges Didi-Huberman, Anselm Franke, Jessica L Horton & Janet Catherine Berlo, Alaina Claire Feldman, Mark Godfrey, Karen Barad, Jane Bennett, Bruno Latour and Graham Harman. Students will be expected to write a 15-20pp essay on artwork(s) of their choice from La Biennale de Montréal [The Grand Balcony, 19 October, 2016 - 15 January, 2017: http://www.bnlmtl.org/en/].
ARTH 421 (21921) Selected Topics in Art and Architecture 2: "The Renaissance Workshop" (3 credits) Prof. TBA, Th, 1135-1425, Arts W-220
ARTH 447 (CRN 5097) Independent Research Course (3 credits) Instructor's approval required.
Supervised independent research on an approved topic.
ARTH 473 (21922) Studies in 17th and Early 18th Century Art 04 (3 credits) Prof. Angela Vanhaelen, W, 1135-1425, Arts W-5
ARTH 490 (CRN 1493) Museum Internship (3 credits) Advisor's approval required
Winter 2017
ARTH 202 (CRN 13873) Introduction to Contemporary Art (3 credits) Prof. TBA, M, W, F, 1605-1725, BURN 1B45
ARTH 302 (16060) Aspects of Canadian Art (3 credits) Prof. TBA, T, Th, F, 1335-1425, Arts W-215
ARTH 305 (CRN 3190) Methods in Art History (3 credits) Prof. Matthew Hunter, M, W, 1135-1255, Arts W-215
Why does the art historian need "methods"? What are methods? How do they enable and constrain the kinds of questions art historians have asked when looking at artifacts? This lecture course introduces key issues in art-historical methodology by exploring the following propositions: 1) "method" is not equivalent to "theory"; 2) questions of method are fundamentally questions of evidence; and 3) if they are matters evidence, then questions of method cannot be asked outside of the context of art history's knowledge-making infrastructure (its media, institutions and publics, among others). Featuring several guest lecturers able to illuminate specific facets of art-historical evidence-building past and present, the course will trace an intellectual genealogy and broad historiographical overview of methods that now inform research practice in art history.
ARTH 321 (16491) Visual Culture of the Dutch Republic (3 credits) Prof. Angela Vanhaelen, T, Th, 1135-1255, Arts W-215
ARTH 325 (13875) Visual Culture Renaissance Venice (3 credits) Prof. Chriscinda Henry, M, W, 1305-1425, Arts W-215
This course addresses major monuments of Venetian architecture, sculpture, painting, and the decorative and graphic arts within a visual culture framework that acknowledges the status of Venice itself as an elaborately constructed work of art. Due to the unique position of the city—built upon a series of reclaimed islands in a shallow saline lagoon—Venice has always been understood as a floating mundus alter (other world), uniquely positioned between East and West. Known as La Serenissima (the Most Serene Republic), Venice employed her leading artists and architects—including the Bellini and Lombardo family dynasties, Giorgione, Titian, Sansovino, Tintoretto, Veronese, and Palladio—to lend potent visual form to a complex, multi-faceted, and carefully crafted self-mythology. Together we will recover the rich complexity of this Venetian self-portrait as it changed over time, with special focus on the fifteenth and sixteenth centuries (1450-1580). We will examine the various strands and figures in the visualized myth, including the dual origins of Venice in ancient Rome and Byzantium; the cultivation of a materially opulent, hybrid architectural style rooted in East and West; the display of communal socio-political values through visual and ritual culture; the theoretical articulation of uniquely Venetian artistic style and subject matter; and the ambivalent projection of Venice as both center of piety and pilgrimage and marketplace, theater, and playground of the early modern world.  
ARTH 339 (16431) Critical Issues in Contemporary Art (3 credits) Prof. TBA, T, Th, F, 1035-1125, Arts W-215
ARTH 360 (16434) Studies in the Photographic (3 credits) Prof. TBA, F, 1435-1725, Arts W-215
ARTH 420 (CRN 13879) Selected Topics in Art & Architecture 1: "TBA" (3 credits), Prof. Cecily Hilsdale, W, 1135-1425, Arts W-220
ARTH 422 (CRN 14296) Selected Topics in Art & Architecture 3: "TBA" (3 credits) Prof. Wendy Owens, T, 1435-1725, Ferrier 230
ARTH 447 (CRN 1673) Independent Research Course (3 credits) Instructor's Approval Required
Supervised independent research on an approved topic.
ARTH 474 (CRN 16061) Studies in Later 18th and 19th Century Art 03: "TBA" (3 credits) Prof. Matthew Hunter, M, 1435-1725, Arts W-5
​ARTH 490 (CRN 1674) Museum Internship (3 credits) Advisor's Approval Required