Fall 2016
*BASC 201 (15793) Arts and Science Integrative Topics (3 credits) Prof. Gabriella Coleman, T, TH, 1435-1525, ENGTR 0100 (in addition, 5 conferences are scheduled)
This course introduces students to a range of issues concerning hacking, openness, and anonymity in science and technology though the angle of controversies. The class takes a broad view of the meanings of hacking, openness, and anonymity and includes, among other topics: the rise of the ethic of openness in science, debates over access and intellectual property law, body modification and disability, the role of new technologies in expanding the scope of state surveillance as well as opening up new possibilities for exposing state secrecy.

This class uses the angle of controversy to introduce students to various academic and popular approaches to the social scientific and humanistic study of science and technology. The class draws on classic academic works in diverse fields, such as the history and philosophy of science, anthropology, and bio­ethics, while also integrating a broad base of engaging and accessible material (editorials, national policies on science, legal regulations, and scientific controversies to name just a number examples) that educate as well as evoke critique and transformation of the complex contemporary practices, methods, and politics of science and technology.
ARTH 204 (21917) Introduction to Medieval Art and Architecture (3 credits) Prof. Cecily Hilsdale, M, W, 1435-1555, Arts W-215
This course offers an introduction to the diverse visual cultures of the medieval Mediterranean world from the fourth to the fifteenth century. It surveys a wide range of Byzantine, Islamic, and European works of art and architecture from this period, positioning them within their original social, political, and spiritual contexts and also tracing the ways in which these monuments were defined and perceived over time. Textbook readings will be supplemented by primary and secondary sources so as to provide exposure to a wide variety of methodological frameworks. In addition to becoming familiar with the central tenets of medieval art and architecture, students will therefore also develop skills in visual literacy and gain a basic understanding of the methods and aims of art historical study.

The course involves visits to the Islamic Studies Library, the Rare Books and Special Collections in McLennan Library, the School of Architecture, as well as the Musée des Beaux-Arts de Montréal.

COURSE EVALUATION AND REQUIREMENTS
Final course evaluation will be based the following criteria:
• Test 1: 15%
• Test 2: 20%
• Test 3: 25%
• Formal Analysis Essay: 15%
​• Research Assignment: 25%
ARTH 205 (20536) Introduction to Modern Art (3 credits) Prof. Mary Hunter, T, Th, 1005-1125, Arts W-215
From the outset, this course approaches the history of modernism and modernity through a variety of theoretical lenses and methodological approaches.  Following a chronological timeline, we will consider some of the key modernist movements and debates through an examination of artworks and visual objects produced from 1850 to the present. We will consider various definitions and approaches to "modernity" and "modernism" by reading texts from both primary and secondary sources, including works by artists, critics, historians and theorists. By focusing on the social and historical contexts in which artworks and art histories were made, we will explore how meaning is produced. In particularly, we will examine the politics of representations by discussing the ways in which sex, class, race and gender are inscribed in artworks, art historical narratives and exhibition practices.  We will also draw connections between contemporary art practices and the themes and debates address in this class.
ARTH 207 (20537) Introduction to Early Modern Art 1400-1700 (3 credits) Prof. Angela Vanhaelen, T, Th, 0835-0955, Arts W-215
The period from 1400 to 1700 saw the emergence of a number of new social functions for art. This course will explore the role of visual culture in the formation of identities across various social spheres in early modern Europe. The functions of selected works will be analysed in relation to civic identity, religious controversies, the rise of absolutism, capitalism and colonialism, and the spread of new visual forms of knowledge about the self and the world.

Midterm Exam: 25% (Tues Oct. 20, in class)
Research Assignment: 35% (2 parts: Nov. 3 and Nov. 17)
Final Exam: 35%  (TBA, during final exam period)
Participation: 5%
ARTH 215 (22469) / EAST 215 (22154) Introduction to East Asian Art (3 credits) Jeehee Hong, W, F, 1305-1425, (Wed=Arts W-215, Fri=STBIO N2/2)
This course provides a historical overview of East Asian art and visual cultures from early dynastic times (ca. 5th century BCE) to the 20th century. Focusing on shared cultural foundations, we will mainly discuss China, Korea, and Japan. The course will be structured around several important themes such as funerary, Buddhist, landscape, and literati arts, each of which will be dealt with in chronological order, generally following the order of China, Korea, and Japan. Throughout the course, students will be encouraged to think about both the overarching characteristics and more particularly local and temporal variations in East Asian art.
ARTH 315 (19245) / CANS 315 (19271) Indigenous Art and Culture (3 credits) Reilley Bishop-Stall, W, 0835-1125, Arts W-215
Indigenous Art and Culture: Contemporary Indigenous Art in Canada

This course will examine the production of contemporary First Nations, Métis and Inuit artists in Canada from the 1990s to the present. A diverse range of contemporary art practices – including painting, drawing, photography, film, performance, installation and new media art – will be considered in relation to key aspects of the cultural, political and social life of Indigenous peoples in Canada. Much of the work examined reflects and responds to the continuing legacy of colonization and successive Canadian governments' policies of assimilation and segregation. Artists, artworks and exhibitions examined will therefore be both historically and contemporarily contextualized. We will discuss the impact of the Indian Act, the Residential School System, the establishment of Reserves and conflicts surrounding sovereignty and status, as well as the portrayal of Indigenous identity in art, popular culture and news media. Additionally, we will engage with the recent recommendations of the Truth and Reconciliation Commission, the early stages of the national inquiry into missing and murdered Aboriginal women, the Idle No More movement and current events related to the theme of the course. The course is divided thematically, rather than chronologically, with weekly topics addressing significant aspects of Indigenous art and culture in Canada today.

Evaluation
Midterm Assignment 20%
Research Paper Proposal, 10%
Research Paper, 35%
Final Exam, 30%
Participation, 5%
ARTH 338 (21920) Modern Art and Theory: WWI-WWII: "Risk and Excess: Women Artists between the Wars" (3 credits) Julia Skelly, T, Th, F, 1235-1325, Arts W-215
Modern Art and Theory: WWI-WWII
"Risk and Excess: Women Artists between the Wars"

This course will consider the work of female artists who were, and continue to be, positioned as 'other' in relation to male modernists. The theoretical framework for the course will be Mary Russo's concept of the 'female grotesque,' a figure who exceeds gendered norms and expectations. Russo notes that the act of exceeding norms has inherent risk, and we will consider the ways in which female artists have exceeded gendered boundaries, as well as the risks and rewards that have accompanied these ostensible excesses. We will also discuss feminist art-historical scholarship that has set out to recuperate women artists, in addition to deconstructing the (masculine) discipline of art history. Issues of race and sexuality will also be central to our discussions. Throughout the term we will consider how the theoretical frameworks of 'risk' and 'excess' are productive (and/or limiting) for the study of women artists. Readings will focus primarily on female artists working in France, England, Mexico and Germany.

Evaluation
Short response paper (3-5 double-spaced pages) - 20%
Proposal for final research paper with a bibliography of 10 sources (max 3 double-spaced pages not including bibliography) - 20%
Final essay (max 8 double-spaced pages, not including bibliography) - 30%
Take-home exam (3 short essays, max 3 double-spaced pages each) - 30%
ARTH 354 (18637)/COMS 354 (21918) Selected Topics in Art History 2: "The Visual Culture of Crime" (3 credits) Prof. Will Straw, M, 0835-1125, Arts W-215
The Visual Culture of Crime

The term "visual culture" has been used for a decade or more to describe the range of images which circulate within our social and cultural worlds. "Visual culture" may include prestigious forms of image-making, such as high art painting, or less respectable forms, such as the popular cultural imagery of advertising and television. The institutions of justice and policing have used visual images for a variety of purposes, from cataloguing suspected criminals to reconstructing the scenes of crimes. Painters and photographers have used images of crime to "prove" prejudices about the criminal personality, to aestheticize the contemporary city, to raise metaphysical issues of life and death, to transgress cultural norms of tastefulness and acceptability and so on.

In this course, we will be looking at a wide range of images which deal in some way with crime. Some of these will be in the form of "moving" images -- that is, films or television programs. Others will be "still images": photographs, paintings, drawings, newspaper and magazine covers, maps, etc. The purpose of this course is to provide an overview of many of the genres and styles through which crime comes to be represented visually.

Grading and Assignments
Visual Analysis 1: Still Image - 25%
Visual Analysis II: Moving Image - 25%
Readings comments posted to MyCourses - 10%
Final Exam - 40%
ARTH 400 (6241) / 401 (6242) Selected Methods in Art History / Honours Research Paper:"Affect/Art History: Difficult Emotions, Depression and Failure" (3 credits) Julia Skelly, F, 1035-1325, Arts W-220
Selected Methods in Art History / Honours Research Paper 
Affect/Art History: Difficult Emotions, Depression and Failure

Despite the depressing title of this course, the intent of the class is not to dwell on 'difficult emotions' per se, but to illuminate how affect theory – and the consideration of emotional states – can impact (of 'affect') the study of art and visual culture more broadly. Rather than a coursepack, we will read two books that consider affect and visual culture. You will note that only one is specifically concerned with art and that neither of the scholars are art historians. This course, then, will demonstrate how art history can fruitfully draw upon other disciplines to broaden the scope of how we analyze and think about art and visual culture. In keeping with this course's additional concern with professional development, we will hold a fellowship-writing workshop and discuss the realities of academia in 2016. Ann Cvetkovich's book Depression: A Public Feeling is partly a critical memoir that tracks the author's own experience of being an academic, including professional pressures, intellectual blockage and depression. This course is not intended to deter you from pursuing graduate degrees or careers in art history, but rather to open up discussions about art, academia and affect so that we might, among other things, illuminate our own anxieties about the intellectual work that we are undertaking.

ARTH 400
Attendance and participation - 20%
Short essay/presentation - 20%
Grant application - 30%
Book review - 30%

ARTH 401
Seminar presentation - 25%
​Final paper - 75%  
ARTH 420 (CRN 19923) Selected Topics in Art & Architecture 1: "Materiality in Contemporary Art" (3 credits) Prof. Christine Ross, M, 1435-1725, W-220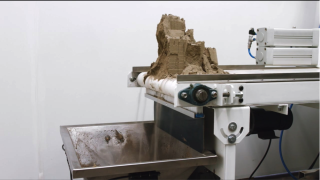 Michel de Broin, Castles Made of Sand (2015-2016) 500 x 160 x 200 cm, Conveyors, pneumatic, stainless mold, tide clock, automation controls, sensors. In the past two decades, artistic practices have become particularly invested in the exploration of materiality, evolving in close dialogue with material culture studies, new materialism, speculative realism and object-oriented philosophy. These artistic, anthropological and philosophical investigations insist on the requirement to "follow" the material. More than objecthood, thingness and physicality — although certainly a bit of all of these —, materiality is best approached as the quality or state of substances "that are always subject to change, be it through handling, interaction with their surroundings, or the dynamic life of their chemical reactions." (Petra Lange-Berndt, Materiality, 2015:12) Questioning art history's traditional privileging of form over matter, mind over body and design over material, the inquiry into an artwork's materiality raises questions about agency (how does one account for the agency of materials?); relationality; mediality and mediation; the gestures of making art; tools of labor and production; cultural techniques; the ways in which materials make sense culturally and transculturally; the ways in which they are explored to produce meaning; the precariousness, sustainability, memory and vitality of materials; perception and affectivity; time and space.

Why this increased attention to materiality? How is materiality best defined? How do artists, art historians, perceivers and participants experience and make sense of the material substances of art? How do artists negotiate matter in the process of making artworks? How do they infuse materials with ritual, symbolic, social and political significance?

Materiality in Contemporary Art raises these questions to better understand the material turn in contemporary art and art history. Expanding from one of the main insights of material culture — "persons make and use things and things make persons" (Tilley et al., The Handbook of Material Culture, 2006:4) — but expanding the objects of material culture to include any natural and manufactured substance used and manipulated by artists, the seminar explores nine research axes to follow the material in the making and reception of art: (1) materials or materiality (?), and the question of anthropocentrism; (2) the dematerialization of art; (3) art history's "fear of materiality"; (4) the "thingness" of art; (5) the animist exploration of objects; (6) the plasticity and malaise of materials; (7) the performativity and vibrancy of matter; (8) the 'object-oriented ontology versus new materialism' debate on materialism; and (9) the gestures of art-making. Some of the artists whose work will be investigated as pivotal actors of materiality include: Robert Morris, Robert Smithson, Mierle Laderman Ukeles, Michel De Broin (guest speaker), Kara Walker (whose A Subtlety, or the Marvelous Sugar Baby (2014) will be one of our special case studies), Jimmie Durham, Pierre Huygue, Sarah Sze, Ann Hamilton, Liz Magor, Peter Fischli & David Weiss, Bridgit Polk, Amie Siegel, David Hammons, Teresa Margolles, Ursula Biemann and artists from The Ocean After Nature (2016) exhibition.​

Seminar requirements:
- Overall: seminar participation (attendance; readings; engagement in the seminar discussions) …… 25%
- October 31: one/two-page [single-spaced] outline of your research topic, to be sent to all members of the seminar, by Monday 9:00 am at the latest …… 15%
- November 28 [14:30-19:00]: 10 min (+ 5 min Q&A) oral presentation, on the subject, hypothesis & corpus of your essay …… 20%
- December 5: 15-20pp [double-spaced] essay on artwork(s) of your choice from La Biennale de Montréal [The Grand Balcony, 19 October, 2016 - 15 January, 2017: http://www.bnlmtl.org/en/], dealing with the topic of the seminar ……………….…........ 40% ​​
ARTH 447 (CRN 5097) Independent Research Course (3 credits) Instructor's approval required.
Supervised independent research on an approved topic.
ARTH 473 (21922) Studies in 17th and Early 18th Century Art: "The Moving Image" (3 credits) Prof. Angela Vanhaelen, W, 1135-1425, Arts W-5
Early modern art criticism conveys a fascination with the moving image—an artwork so strikingly lifelike that it appears to come alive. The force of the moving image is physical, immediate, and emotive. Such works deploy stunning visual effects that move and even change their human interlocutors. In the words of one commentator, the viewer thus confronted by the incarnate artwork "becomes another person." This type of response to images has been largely repressed from art historical discourses that focus on the distanced intellectual interpretation and contemplation of the work of art as a closed field of knowledge. Frequently dismissed as a form of 'primitivism', the living image is most often encountered in popular culture studies or anthropologies of the image. A reconsideration of the moving image thus has the potential to put art history in motion, animating and dynamically opening it to new objects, questions, temporalities, and methods of analysis. Engagement with the affective impact of images unsettles art historical categories of understanding, prompting us to reconsider key terms of analysis like representation, mimesis, spectatorship, meaning, medium, and interpretation as mobile and transformative processes. In this seminar, we will thus seek to redress art historical neglect of the moving image and explore its multifaceted potentialities. If the power of such works was to transform viewers, how was the rhetorical force of the moving image mobilized to inspire or manipulate political, religious, colonial, and social actions? 

Weekly discussions will take up a body of readings, but also a corpus of moving images and their particular modes of address. We will consider images that move (automata, mechanical moving pictures); images that appear to move or breathe (living statues, portraits, waxworks); images that physically and /or emotionally move or alter their viewers; and the transformative potential of images that migrate between cultures. Focusing on case studies, student research can take up any aspect of the moving image in the early modern period (1500-1700).

Method of Evaluation:
Class participation and reading responses: 25%
Class presentation / discussion leader: 20%
Museum presentation: 15%
Paper Proposal: 5% (due: Nov. 2)
Oral presentation of research topic: 15%
Written research paper: 20% (due: Wed. Dec. 7)
ARTH 490 (CRN 1493) Museum Internship (3 credits) Advisor's approval required
Winter 2017
ARTH 202 (CRN 13873) Introduction to Contemporary Art (3 credits) Prof. TBA, M, W, F, 1605-1725, BURN 1B45
ARTH 305 (CRN 3190) Methods in Art History (3 credits) Prof. TBA, M, W, 1135-1255, Arts W-215
Why does the art historian need "methods"? What are methods? How do they enable and constrain the kinds of questions art historians have asked when looking at artifacts? This lecture course introduces key issues in art-historical methodology by exploring the following propositions: 1) "method" is not equivalent to "theory"; 2) questions of method are fundamentally questions of evidence; and 3) if they are matters evidence, then questions of method cannot be asked outside of the context of art history's knowledge-making infrastructure (its media, institutions and publics, among others). Featuring several guest lecturers able to illuminate specific facets of art-historical evidence-building past and present, the course will trace an intellectual genealogy and broad historiographical overview of methods that now inform research practice in art history.
ARTH 321 (16491) Visual Culture of the Dutch Republic (3 credits) Prof. Angela Vanhaelen, T, Th, 1135-1255, Arts W-215
ARTH 353 (16869) Selected Topics in Art History 1 (3 credits) Prof. TBA, M, W, 1305-1425, Arts W-215
ARTH 420 (CRN 13879) Selected Topics in Art & Architecture 1: "TBA" (3 credits), Prof. Cecily Hilsdale, W, 1135-1425, Arts W-220
ARTH 421 (CRN 15136) Selected Topics in Art & Architecture 2: "TBA" (3 credits) Prof. TBA, F, 1135-1425, Ferrier 230
ARTH 422 (CRN 14296) Selected Topics in Art & Architecture 3: "TBA" (3 credits) Prof. Wendy Owens, T, 1435-1725, Ferrier 230
ARTH 447 (CRN 1673) Independent Research Course (3 credits) Instructor's Approval Required
Supervised independent research on an approved topic.
​ARTH 490 (CRN 1674) Museum Internship (3 credits) Advisor's Approval Required